alumni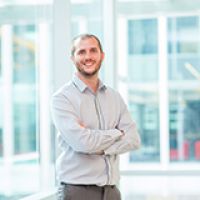 Financial Research Officer, Auckland Centre for Financial Research
Bachelor of Business (Honours)
Bachelor of Business in Finance
Completing an honours degree helps your CV stand out, says AUT business alumnus Alex Medland-Slater.
"Employers always comment that you need to stand out from the crowd. Before I came to AUT, I worked in accounts payable roles for five years, and I realised how important further study is to your CV. Postgraduate study helps me distinguish myself to future employers."
He says he would highly recommend the Bachelor of Business (Honours) to other students.
"I enjoyed that the financial topics covered in the honours degree were at a more advanced level than undergraduate study. It was also a great opportunity to research an area of my interest. I chose to explore a returns anomaly that occurs at the beginning of the tax year in a number of equity markets around the world. I chose this topic as it involves the use of quantitative analysis with various economic software packages."
Creating career-ready graduates
Joining AUT as an international student from England, Alex says he was attracted by AUT's strong industry links and focus on creating career-ready graduates.
"AUT offers a number of valuable services like CareerHub and Internz where students can sign up for internships, graduate jobs or positions for their workplace experience. AUT also hosts the Accounting and Finance Career Fair where students can talk to potential employers and explore what it takes to secure a great job."
All these services and resources provide the stepping stone students need to start their business career, says Alex.
"The networking opportunities and workplace experience add so much value to your degree. For example, one of my lecturers put me in touch with Jim McElwain, the executive director of the Institute of Finance Professionals New Zealand, who asked me to complete an analysis of their membership questionnaire. It was an amazing opportunity to gain key skills for the workplace."
Academic excellence
There were many highlights throughout his studies, says Alex.
"I enjoyed being able to apply new knowledge to my chosen field of finance. The things I'm most proud of are achieving an A+ average for my undergraduate degree and passing the level 1 exam of the Chartered Financial Analyst (CFA) qualification in my third year. The pass rate for the exam was 40% and I'm very proud of passing on my first attempt."
Other highlights for Alex include receiving a Business, Economics and Law Postgraduate Academic Excellence Scholarship to complete his honours degree, as well as a scholarship to attend the 2015 Institute of Finance Professionals New Zealand Conference.
After graduating last July, Alex now works as financial research officer at the Auckland Centre for Financial Research where he is responsible for the construction and management of financial indices for the New Zealand capital markets.
Upcoming events
25th Mar 2018 10:30am - 25th Mar 2018 12:00pm
The Art of Sky: Light Awaits with Jacky Ke Jiang
AUT is kicking off another year of hosting the Auckland Game Developers Meetup with a special international guest. We'd like to invite you to The Art of Sky: Light Awaits with Jacky Ke Jiang. Don't miss this amazing opportunity to hear from Jacky and then show him your work for personal feedback.
3rd Sep 2018 9:00am - 6th Sep 2018 5:00pm
AUT is hosting the internationally renowned All Together Better Health interprofessional education and collaborative practice conference from 3 - 6 September, 2018
25th Jul 2018 11:00am - 25th Jul 2018 2:00pm
AUT ICT and Engineering Careers Fair 2018
Opportunity is knocking and you're invited – Visit the AUT ICT & Engineering Careers Fair 2018 on Wednesday 25 July 11am-2:00pm in WA224 - The Conference Centre at the AUT City campus
Join the Alumni LinkedIn Group to reach over 2,300 members.
Stay up to date with AUT news and events.