Science alumni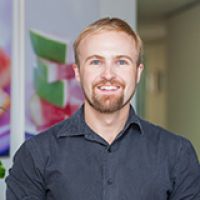 Dudley Haines
Product Innovation Manager, Invita NZ Ltd
Bachelor of Applied Science in Food Science*
His passion for food science first started in high school, says AUT science alumnus Dudley Haines.
"I was working as a part-time chef and studying organic chemistry and food technology at school. That's when I first started to develop a passion for food, science and product development.
"I wanted to learn more about these subjects in a creative and challenging environment, and decided to enrol in AUT's food science degree. I knew this would open the door to an exciting career within this field."
Relevant research as part of AUT degree
Dudley says his biggest highlight was the research project he completed in his final year at AUT.
"My final-year project was product development and sensory research for a real client. I truly enjoyed working with my client – using all the techniques and skills I had gained throughout my study to interpret their requirements and feedback.
"It was great to see all the hard work and effort come together at the end of the project, and seeing the product available to the public on supermarket shelves."
Opportunities and variety
Now working as the product innovation manager for Invita NZ Ltd, he loves the challenges and opportunities his career is offering him.
"One day could include making up a low-fat yoghurt in the morning, followed by formulating a sugar-free sports drink in the afternoon before finishing with a new flavour project for confectionery," says Dudley who joined the Invita NZ team soon after graduating from AUT.
"I'm responsible for managing the Invita NZ brewing ingredient portfolio. This involves looking after our range of brewing products while also providing technical support to Invita's brewing customers.
"My day-to-day responsibilities include allocating tasks to the applications team in the lab, organising tasting sessions with our sales team and producing food and beverage concepts to showcase our ingredients to customers."
* The Bachelor of Applied Science is now called Bachelor of Science.
Upcoming events
25th Mar 2018 10:30am - 25th Mar 2018 12:00pm
The Art of Sky: Light Awaits with Jacky Ke Jiang
AUT is kicking off another year of hosting the Auckland Game Developers Meetup with a special international guest. We'd like to invite you to The Art of Sky: Light Awaits with Jacky Ke Jiang. Don't miss this amazing opportunity to hear from Jacky and then show him your work for personal feedback.
3rd Sep 2018 9:00am - 6th Sep 2018 5:00pm
AUT is hosting the internationally renowned All Together Better Health interprofessional education and collaborative practice conference from 3 - 6 September, 2018
25th Jul 2018 11:00am - 25th Jul 2018 2:00pm
AUT ICT and Engineering Careers Fair 2018
Opportunity is knocking and you're invited – Visit the AUT ICT & Engineering Careers Fair 2018 on Wednesday 25 July 11am-2:00pm in WA224 - The Conference Centre at the AUT City campus
Join the Alumni LinkedIn Group to reach over 2,300 members.
Stay up to date with AUT news and events.