Science alumni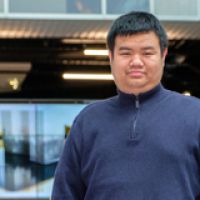 King Ting Yik
Medical Laboratory Scientist, New Zealand Blood Service
Bachelor of Medical Laboratory Science
Finding the right donor is at the heart of every successful bone marrow or blood transplant. AUT science alumnus King Ting Yik is often the man who finds that perfect match.
"What I enjoy most about my work is the satisfaction when you find a donor that matches the patient who is really in need of a transplant.
"My responsibilities include DNA extractions, platelet typing and human leukocyte antigen typing, which are essential for donor matching. I'm constantly applying the practical molecular diagnostics skills I developed at AUT in my work now," says King Ting who completed his Bachelor of Medical Laboratory Science in 2015.
Creating career ready graduates
After initially considering a career as a pathologist, King Ting decide to come to AUT because of its reputation for creating career ready graduates.
"I had heard from others who went to AUT that the programmes include a lot of practical work in addition to the theory. I also liked that AUT could provide me with workplace experience in my final year, which I knew would put me ahead of a lot of people."
Being invited to help with the opening of the new AUT Roche Diagnostics Laboratory was one of the highlights of King Ting's studies.
"Only five students from the entire Bachelor of Medical Laboratory Science students were chosen to help with the opening. During the opening night, I met a lot of people from labs around New Zealand, which gave me great insight into how labs work and current industry trends. It also gave me an understanding of other opportunities my degree can lead to."
Advice for other students
While student life has some challenges it's important not to give up, King Ting says.
"If you're about to give up, think about all the effort you've already put in. Is it really worth giving up all that just because of some challenges you're facing now? And how will you feel looking at your student loan if you give up now? Stay in your degree – when you finish and look back, you'll see it was worth all your struggles.
"Throughout the degree, my classmates and I were constantly helping each other out so we could all get good grades. This supportive environment promotes teamwork, which is a very important skill when you're at work."
Comprehensive student support
As an AUT student you have access to a large number of services to make the most of university life, he adds.
"The student ambassadors were very helpful to me when I first came to AUT; they were very welcoming and made me feel comfortable. I also appreciated the free food and other freebies the student union gives out, which helps when you're on a tight student budget."
Upcoming events
25th Mar 2018 10:30am - 25th Mar 2018 12:00pm
The Art of Sky: Light Awaits with Jacky Ke Jiang
AUT is kicking off another year of hosting the Auckland Game Developers Meetup with a special international guest. We'd like to invite you to The Art of Sky: Light Awaits with Jacky Ke Jiang. Don't miss this amazing opportunity to hear from Jacky and then show him your work for personal feedback.
3rd Sep 2018 9:00am - 6th Sep 2018 5:00pm
AUT is hosting the internationally renowned All Together Better Health interprofessional education and collaborative practice conference from 3 - 6 September, 2018
25th Jul 2018 11:00am - 25th Jul 2018 2:00pm
AUT ICT and Engineering Careers Fair 2018
Opportunity is knocking and you're invited – Visit the AUT ICT & Engineering Careers Fair 2018 on Wednesday 25 July 11am-2:00pm in WA224 - The Conference Centre at the AUT City campus
Join the Alumni LinkedIn Group to reach over 2,300 members.
Stay up to date with AUT news and events.