Science alumni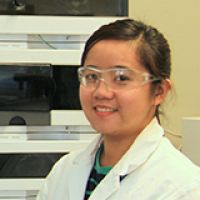 Kristine Ann Sotelo-Dela Cruz
Science Research Specialist, Food Processing Division, Industrial Technology Development Institute, Department of Science and Technology, Philippines
Master of Science with Honours (First Class)
Her postgraduate study at AUT has helped her reach another level in her work, says science alumna Kristine Ann Sotelo-Dela Cruz who recently completed a Master of Science specialising in food science.
"It was a great experience for me. I appreciated AUT's small classes and supportive lecturers, and the facilities and equipment were very sophisticated.
"My research project focused on non-thermal processing of fruits to extract desirable flavour compounds and bioactive compounds with health benefits. My lecturers and supervisors also encouraged me to successfully publish an article about my work in Molecules — Open Access Organic Chemistry Journal."
Kristine also shared her research at the New Zealand Institute of Food Science and Technology Conference 2014 and at the 2014 AUT Postgraduate Symposium, which is an important showcase for postgraduate research across AUT.
Scholarship opportunities
Before coming to New Zealand, Kristine worked as a research specialist in the food processing division of a Filipino government development institute.
"I had already completed a bachelor's degree in chemical engineering, but after several years in the workplace I decided to further my education.
"I researched available scholarships in New Zealand and Australia, and was lucky enough to receive a New Zealand Asean Scholar (NZAS) Award with AUT. For me, this was a good match academically and I am glad I made this decision. I would encourage students to study at AUT and look for scholarship opportunities."
Life in New Zealand
Being able to travel around New Zealand was one of the highlights of Kristine's time at AUT.
"I love nature and New Zealand is a beautiful country. I really enjoyed travelling all over New Zealand on weekends or during the holidays."
The easiest way to meet people and make friends is to stay in AUT's on-campus accommodation, Kristine says.
"I loved staying in the university accommodation and my Kiwi roommates helped me with learning the local culture."
Upcoming events
25th Mar 2018 10:30am - 25th Mar 2018 12:00pm
The Art of Sky: Light Awaits with Jacky Ke Jiang
AUT is kicking off another year of hosting the Auckland Game Developers Meetup with a special international guest. We'd like to invite you to The Art of Sky: Light Awaits with Jacky Ke Jiang. Don't miss this amazing opportunity to hear from Jacky and then show him your work for personal feedback.
3rd Sep 2018 9:00am - 6th Sep 2018 5:00pm
AUT is hosting the internationally renowned All Together Better Health interprofessional education and collaborative practice conference from 3 - 6 September, 2018
25th Jul 2018 11:00am - 25th Jul 2018 2:00pm
AUT ICT and Engineering Careers Fair 2018
Opportunity is knocking and you're invited – Visit the AUT ICT & Engineering Careers Fair 2018 on Wednesday 25 July 11am-2:00pm in WA224 - The Conference Centre at the AUT City campus
Join the Alumni LinkedIn Group to reach over 2,300 members.
Stay up to date with AUT news and events.