Science alumni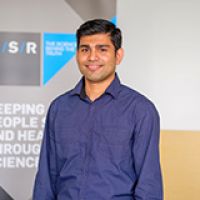 Robins Jacob
Technician, Auckland Forensic Service Centre, ESR
Bachelor of Science in Microbiology
Science is in his blood, says AUT Bachelor of Science alumnus Robins Jacob who now works as a technician at ESR's Auckland Forensic Service Centre, the sole forensic science provider to the New Zealand Police.
"My dad is a medical laboratory scientist and a businessman, and he inspired me to further my studies in science."
Robins loves the variety of his role.
"There's never a day I don't learn something new. I have a vast range of responsibilities – including the decontamination of crime scene kits, validation of chemical reagents, instrument calibration, asset management, quality assurance and exhibit management. I also have responsibilities as a purchasing coordinator and information technology coordinator. I enjoy working with such talented and experienced people."
More opportunities to participate
The interactive learning environment was one of the highlights of his studies, says Robins who came to AUT based on the recommendation from other AUT alumni.
"At AUT you don't just learn in lecture theatres, but your study also includes smaller group sessions. It's a more in-depth learning environment, with better interaction with academics and the other students. I think you learn twice as much in smaller groups. I also immensely enjoyed working in smaller groups in the lab, and participating in all the research components."
The staff were another highpoint for him.
"The lecturers are so approachable and down to earth, and they always provide the latest information and real-world applications. They often went above and beyond to ensure my success."
Advice for other students
Study to learn, not just for the results, he advises other students.
"Always remember that you never stop learning. Don't just study for the results. Study to learn, the results will follow," says Robins who was awarded the 2014 AssureQuality prize for the most outstanding Bachelor of Science graduate in microbiology.
Never give up, he adds.
"Any failure should be used as a stepping stone to your goal. My great successes came from asking a lot of questions to my lecturers and during group studies. My time at AUT gave me a huge boost of confidence, and the courage to contribute in my highly demanding job."
Employer comment
"Robins was employed at ESR because he had good science knowledge that could be applied across the variety of casework and research activities the Service Centre is involved in. We needed someone with skills across chemistry and biology, and the ability to apply their knowledge in practical situations. We wanted someone who would take a hands-on approach and be proactive to completing their tasks, while working collaboratively with a team of experienced scientists.

"Forensic science is a very broad area of expertise with many opportunities to apply science. It's a 'real world' science where we are seeking to apply our knowledge in real-time to problems, both out at crime scenes and in the laboratory. To be successful in forensic science you need a good level of science knowledge and the ability to apply this in practical ways. A qualification gives us confidence in what the candidate can deliver in the role. It provides the required standard of theoretical knowledge across the science disciplines that the person will draw on. It also shows their willingness and ability to learn new skills. Completion of project work as part of their study illustrates that someone can meet deadlines and work collaboratively."


Dion Sheppard, Team Leader/Science Leader – Auckland Service Centre, ESR
Upcoming events
25th Mar 2018 10:30am - 25th Mar 2018 12:00pm
The Art of Sky: Light Awaits with Jacky Ke Jiang
AUT is kicking off another year of hosting the Auckland Game Developers Meetup with a special international guest. We'd like to invite you to The Art of Sky: Light Awaits with Jacky Ke Jiang. Don't miss this amazing opportunity to hear from Jacky and then show him your work for personal feedback.
3rd Sep 2018 9:00am - 6th Sep 2018 5:00pm
AUT is hosting the internationally renowned All Together Better Health interprofessional education and collaborative practice conference from 3 - 6 September, 2018
25th Jul 2018 11:00am - 25th Jul 2018 2:00pm
AUT ICT and Engineering Careers Fair 2018
Opportunity is knocking and you're invited – Visit the AUT ICT & Engineering Careers Fair 2018 on Wednesday 25 July 11am-2:00pm in WA224 - The Conference Centre at the AUT City campus
Join the Alumni LinkedIn Group to reach over 2,300 members.
Stay up to date with AUT news and events.