Science alumni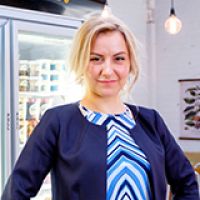 Svetlana (Lana) Philcox
Business Manager, Kohu Road Ltd
Bachelor of Science in Food Science
Seeing a product you've created on the supermarket shelf is an amazing feeling, says AUT food science alumna Svetlana (Lana) Philcox who now works for ice cream manufacturer Kohu Road Ltd.
"I love my job! It feels amazing to see your creation in the supermarket and get great feedback from the consumers. My job involves applying creative critical thinking skills to solve technical problems and drive innovations. I'm constantly drawing on my knowledge of food chemistry, food composition and sensory evaluation to help create new products consumers want to buy.
"I love the versatility of my role. One day I might be in the kitchen creating new products, the next day meeting potential suppliers and looking for new ingredients or packaging solutions, or staying in the office doing administrative tasks."
Finding your path
She has always been interested in the science of food, Lana says.
"I've always had a passion for creating new foods and improving existing recipes. I initially decided to study food science because I wanted to gain a better understanding of food chemistry and science, and help the community by developing healthy food products."
Choosing the right career path is a challenge for many students, she admits.
"The hardest part is to recognise your strengths and chose your career pathway based to it. You need to ensure that you choose it right as there is nothing worse than going to a workplace you hate every day for the rest of your life. Once you have discovered your passion, give it your all to follow your path."
A modern approach
She appreciated AUT's innovative approach to education and student life, says Lana who came to AUT as an international student from Russia.
"I liked AUT's practical approach. Practical skills are a priority for employers, so that was very important to me when choosing where to study. Throughout my studies, I loved the practical sessions in the laboratories, especially in food and analytical chemistry, food science, biophysics and sensory evaluation."
As an AUT student you have access to outstanding facilities, she says.
"Being a very active person, I found it handy to have the AUT Sport and Fitness Centre on site. It was perfect for a quick workout in between classes. I also enjoyed spending time in the library with its comprehensive collection on a variety of subjects."
Employer comment
"Svetlana (Lana) was a perfect candidate for our business due to her educational background, and her strong communication and creative thinking skills. We had been trying to fill this position for a long time, but were struggling due to the shortage of qualified food technologists in New Zealand. We were looking for someone with an understanding of food science and new product development; knowledge of hazard analysis and critical control points (HACCP), food safety, microbiology and good manufacturing practices (GMP), as well as creative thinking, innovation and a proactive approach. AUT's food science degree provides skilled employees like Lana for the highly demanding New Zealand food industry.

"If you're interested in a career in this field, I would suggest looking for internship opportunities while you're studying. It will definitely help you get a feel for the industry and gain valuable skills when looking for a job after graduation."


Greg Hall, Managing Director/Founder, Kohu Road Ltd
Upcoming events
25th Mar 2018 10:30am - 25th Mar 2018 12:00pm
The Art of Sky: Light Awaits with Jacky Ke Jiang
AUT is kicking off another year of hosting the Auckland Game Developers Meetup with a special international guest. We'd like to invite you to The Art of Sky: Light Awaits with Jacky Ke Jiang. Don't miss this amazing opportunity to hear from Jacky and then show him your work for personal feedback.
3rd Sep 2018 9:00am - 6th Sep 2018 5:00pm
AUT is hosting the internationally renowned All Together Better Health interprofessional education and collaborative practice conference from 3 - 6 September, 2018
25th Jul 2018 11:00am - 25th Jul 2018 2:00pm
AUT ICT and Engineering Careers Fair 2018
Opportunity is knocking and you're invited – Visit the AUT ICT & Engineering Careers Fair 2018 on Wednesday 25 July 11am-2:00pm in WA224 - The Conference Centre at the AUT City campus
Join the Alumni LinkedIn Group to reach over 2,300 members.
Stay up to date with AUT news and events.