Science alumni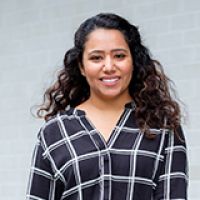 Zahra Moiyadi
Laboratory Technician – Organic Chemistry, Watercare
Bachelor of Science (Honours)
Bachelor of Science in Chemistry
Zahra Moiyadi was drawn to the challenge of studying chemistry.
"What I love about chemistry is that there are infinite structures and variety in the behaviour of the particles, elements, molecules and compounds that make up this world."
The AUT science alumna is now working as a laboratory technician for Watercare; an essential role in Auckland's infrastructure.
"In my role at Watercare, I'm responsible for analysing samples by using liquid and gas chromatographic techniques. I enjoy using different analytic equipment to perform quantitative analyses.
"I constantly draw on what I learned at AUT. The dissertation project for my AUT Bachelor of Science (Honours) required the use of these techniques, which are the primary instruments used for the lab analysis at Watercare."
Bringing chemistry to life
Zahra says that when studying science, a practical approach is more useful to students.
"Compared to other universities, AUT's classes are more practice-based, which is very important in science. The AUT degree includes a lot of time in hands-on labs, which gives students the opportunity to really understand the various techniques and instruments used for scientific analysis."
She says that AUT prepared her well for the working world, and gave her opportunities that she couldn't have found elsewhere.
"In the final year of my AUT Bachelor of Science degree, I had the opportunity to undertake independent research. That is an opportunity not many universities offer undergraduate students."
AUT's collaborative approach
Zahra found the environment at AUT to be supportive and collaborative.
"The classes are smaller and more interactive, so there is better communication between lecturers and students. It makes the transition from high school to university a lot easier.
"I got to know everyone in my classes, and we all assisted each other to get the best out of the opportunity."
Upcoming events
25th Mar 2018 10:30am - 25th Mar 2018 12:00pm
The Art of Sky: Light Awaits with Jacky Ke Jiang
AUT is kicking off another year of hosting the Auckland Game Developers Meetup with a special international guest. We'd like to invite you to The Art of Sky: Light Awaits with Jacky Ke Jiang. Don't miss this amazing opportunity to hear from Jacky and then show him your work for personal feedback.
3rd Sep 2018 9:00am - 6th Sep 2018 5:00pm
AUT is hosting the internationally renowned All Together Better Health interprofessional education and collaborative practice conference from 3 - 6 September, 2018
25th Jul 2018 11:00am - 25th Jul 2018 2:00pm
AUT ICT and Engineering Careers Fair 2018
Opportunity is knocking and you're invited – Visit the AUT ICT & Engineering Careers Fair 2018 on Wednesday 25 July 11am-2:00pm in WA224 - The Conference Centre at the AUT City campus
Join the Alumni LinkedIn Group to reach over 2,300 members.
Stay up to date with AUT news and events.