Outstanding alumni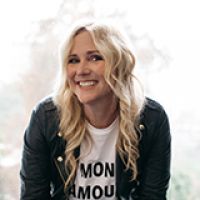 Jenny Joblin
Creative Director, Federation
Bachelor of Arts in Fashion Technology
The creativity is what she loves most about her career, says AUT fashion alumna Jenny Joblin who is the creative director for streetwear label Federation.
"I love being able to be creative in my daily life, but I also enjoy the business side of my role. We've just completed a really successful show at the New Zealand Fashion Week, and we're now focusing on getting our summer products into stores and planning for Christmas.
"We've also managed to find time to be part of the Rangitoto College fashion show and the Breast Cancer Cure Charity fashion show in Christchurch."
Taking on the fashion world
She has had many career highlights since the Federation brand was established in 2000, Jenny says.
"One of the things that stood out for me was when we were first stocked in Selfridges in London. Seeing our collection there in person was amazing.
"Another highpoint for me was having one of our garments on the front cover of New York's Nylon magazine."
Today, Federation is one of New Zealand's most iconic streetwear brands, with 15 staff, two Auckland stores and stockists around the world.
The first step towards a fashion career
She always knew she wanted to work in fashion, says Jenny who completed her fashion design degree at AUT in 1999.
"I came to AUT to develop the skills I needed to have a career in the fashion industry, and I loved learning how to use the different machines and take my designs from initial idea to completed garment. While at AUT, I had a few garments that ended up in publications like Fashion Quarterly, which was great. I use the skills I learned at AUT all the time in my role at Federation."
Make the most of all the opportunities open to you while you're studying, Jenny advises other students.
"Try and get as much work experience as possible, and make sure you have a full body of work by the time you finish university."