Outstanding alumni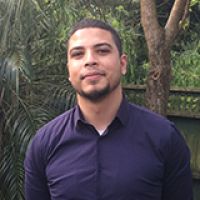 Dameon Arendse
Procurement Coordinator, Ministry of Education
Bachelor of Business in Management
He has always had a passion for business, says AUT alumnus Dameon Arendse who completed a Bachelor of Business in Management.
"I've always been interested in business, especially online business. I started my own online retail company, Easy Good Buys Ltd, before coming to AUT, and wanted to gain a better understanding of the way the business world works to achieve the best results possible.
"The Bachelor of Business gave me a really good understanding of the business basics, while majoring in management gave me a better understanding of how to manage the business side of things and how to best manage people."
Creating career-ready graduates
He chose to come to AUT because of the workplace experience that is part of AUT's business degree, Dameon says.
"The fact that there's a mandatory workplace experience component as part of the degree was the biggest reason why I decided to attend AUT. I haven't come across another university that does this, and I thought that this component of the qualification would help propel me into a job after graduation.
"I was quite lucky because I was able to secure a place in the Ministry of Business, Innovation and Employments (MBIE) procurement graduate programme while I was still enrolled as a student, and could fulfil my workplace experience requirement through my full-time job at MBIE."
Making new friends and achieving good grades were other highlights of Dameon's studies.
"By working with different people on multiple projects I was able to build friendships that are strong to this day. I think the collaborative nature of AUT's assignments really allows students to become close. I'm also proud of being able to maintain high grades throughout my time at AUT. This is a huge achievement for me, as I'm a father of two and also run my own business."
A rewarding career
Now working as a procurement coordinator for the infrastructure team in the Ministry of Education, Dameon loves the variety of his role.
"My job involves running tenders, managing the approval of new suppliers; developing, negotiating and managing contracts; and managing relationships with suppliers. Negotiating contracts is the aspect of my job I enjoy most because it requires a strategic outlook, and changes from contract to contract. Being able to save the company tens of thousands of dollars provides me with a great sense of pride and accomplishment."
He constantly draws on what he learned at AUT, Dameon says.
"The management papers I took during my time at AUT provided me with a great understanding of the way things work within the business world. But I think the biggest skill AUT has helped me develop further is to think outside of the box and ask questions. In the world of procurement it is always important to try and think of new ways to achieve your desired outcome."