Outstanding alumni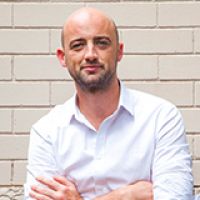 Iain Nealie
Creative Director, Google APAC, Sydney
Bachelor of Communication Studies in Advertising Creativity
His role doesn't feel like work, says AUT advertising alumnus Iain Nealie who is now a creative director for Google, working across the Asia-Pacific region.
"I work with Google's partners, clients and agencies across the Asia-Pacific region to innovate products and create advertising solutions that utilise Google's technology and platforms.
"Every brief and project is different, and Google has so many different technology solutions that I can apply to any given problem. I also get to work with some outrageously talented people on a daily basis. It's a stretch to call it work."
Taking on the advertising world
There have been many highlights in his career so far, says Iain who graduated from AUT in 2009.
"While we were still at AUT, my classmate and creative partner Tara Mckenty and I were hired as interns at TBWA six months prior to graduation. We also somehow convinced the New Zealand advertising industry to send us to the Cannes Lions advertising awards with the world's first Creative Futures IPO, a fundraising scheme where we sold shares in our team 'brand', Plankton."
Since then, Iain and Tara have become one of the top creative duos in the Asia-Pacific region, and were named in Campaign Magazine's Top 50 Emerging Talent list.
Iain was also listed as one of the 30 most influential people under 30 in Australia, and in the past five years has received more than 90 internationally recognised creative awards, including the WARC100 Award for Most Effective Campaign in the World, Best In Show at the Clios, a Gold Creative Innovation Lion, two D&AD pencils, four Gold Effies, two Gold Clios and two First Prizes at the New York Festivals.
Getting started
He was originally considering studying video production, before deciding on AUT's advertising degree, Iain says.
"I wanted some hands-on experience, and not just write essay after essay. AUT was the obvious choice to get a better understanding of the wider communications industry and where I might fit into it. I made a lot of great friends at AUT, and got to dabble in a range of subjects, which is what makes the comms degree such a great choice for people interested in media and communications.
"I think AUT set me up with a wealth of knowledge and skills across the board, which was a big help when it came to standing out in the advertising creative industry."
Not knowing what you want to do isn't a bad thing, Iain advises other students.
"You've got a lot longer than you think to figure it out, so get stuck in and try everything. AUT has a so many great options and talented lecturers to help you figure it out."