Outstanding alumni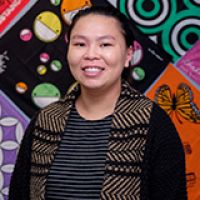 Lian Thay
Fundraising Administrator, Mental Health Foundation of New Zealand
Bachelor of Arts in Social Sciences and Bachelor of Business in Market Insights: Marketing, Advertising, Retailing, Sales conjoint programmes
Studying a Bachelor of Arts was the obvious choice for her, says AUT alumna Lian Thay.
"In high school, I had an interest in social studies, history and classical studies. When I was looking at universities, it made sense to study a Bachelor of Arts degree. I then compared what different universities had to offer, and liked AUT's more practical and hands-on approach.
"In the first year of my Bachelor of Arts, I decided to undertake conjoint programmes and study a business degree alongside my Bachelor of Arts. I was really interested in psychology and the way messages are spread through communities, and studying marketing seemed a great way to explore this further."
Memorable experiences
Make the most of the opportunities available to you, Lian advises other students.
"My advice to future AUT students is to take every opportunity possible – do an internship, join a club or go on a student exchange. These experiences will expose you to different career pathways, different people, and will help you land you the job you want."
She has had many unforgettable experiences throughout her time at AUT, Lian says.
"The most memorable moment at AUT was going on a student exchange to Aalto University in Helsinki, Finland. Halfway through my degree, I really wanted to travel and going on a student exchange was the perfect way to travel while completing my degree. I met so many new people, did so many amazing things, and visited so many amazing places.
"During university, I also participated in the TEAR Fund Live Below the Line internship. This internship lasted three months and involved working alongside other students to promote the Live Below the Line campaign. From this, I improved my teamwork skills, learned to work well under pressure, and gained insight into the not-for-profit sector."
Making a difference
Another highlight for Lian was her final-year workplace experience, which she completed at CanTeen New Zealand. After graduating from AUT 2017, she joined CanTeen as a fundraising admin coordinator before recently moving to the Mental Health Foundation
"My role involves processing incoming donations from businesses, fundraisers, community events, and Mental Health Foundation appeals and campaigns. It's my responsibility to input income into our database, ensure appropriate receipting, and reconcile the bank statements. I'm also involved in helping implement a new database, and improving the donor journey through email newsletters, thank you receipts and acknowledgement certificates."
She loves being able to make a difference through her work.
"I enjoy working for the Mental Health Foundation as there are always new things happening, whether it is new mental health research, an exciting fundraiser or development of new resources."
Employer comment
"We were originally going to employ one new person into our fundraising team at the Mental Health Foundation, but, with such strong support and interest from people and businesses wanting to be involved and fundraise for mental health, we decided to create two roles. When I interviewed Lian she was working in fundraising administration but was keen to take the next step in her career, and take on new challenges and responsibilities. Her existing experience meant that she quickly picked up the donation process tasks (and improved on them). With a growing team, Lian is now involved in planning and implementing a new database for the organisation, and also working on revamping and relaunching our supporter e-newsletter, and later this year will help set up supporter journeys for people that donate and businesses that do fundraising events. Her studies at AUT have given her a great foundation to form her career path in marketing and we're lucky to have her on our team."


Joanne Luxton, Fundraising Manager, Mental Health Foundation of New Zealand