Outstanding alumni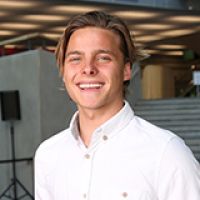 Michael Lough
Intern, New Zealand Trade and Enterprise, Vancouver, Canada
Bachelor of Business in International Business and Bachelor of Communication Studies in Digital Media conjoint programmes
He loves the variety of his role, says Michael Lough who is currently interning at New Zealand Trade and Enterprise in Vancouver through the AUT Internz International Scholarship Programme.
"I love the range of work! I really enjoy meeting new people and learning from them, and I definitely appreciate Canada's polite and open culture.
"I decided to apply for this Internz internship because it's such an unreal opportunity to be overseas and explore the world, right after graduating from university. I was keen to get some work experience and thought I should just go for it and apply for the internship. I'm so glad that I did."
The perfect blend
Choosing to study both business and communications was an easy decision, Michael says.
"Together, the Bachelor of Business and Bachelor of Communication Studies offer the perfect blend of business foundations and creative expression. I could see that these conjoint programmes would give me a great foundation to pursue creative and art pursuits in a global online world."
Deciding where to study wasn't difficult, he adds.
"What I liked about AUT is that it is a practically focused university and not overwhelmed by tradition. Students can become who they are and aren't forced into a box."
Advice for other students
Make the most of the opportunities available to you, Michael advises.
'My advice for future students is to apply for everything that is on offer. By participating in the different opportunities you learn what you want to do. And by the time you're leaving university, you'll have a stronger self-awareness in who you are."
He had amazing times at AUT, says Michael who received a Vice-Chancellor's Significant Student Scholarship to support his studies.
"While I was at AUT, I was part of the drama club and the debating club, went on a student exchange to Denmark, was a finalist at AUT's entrepreneurship competition together with my brother, and I also got to attend the Kea World Class New Zealand Awards. All of these events meant I got to meet some awesome and inspiring people, and these opportunities were all important to my learning in the real world."