Outstanding alumni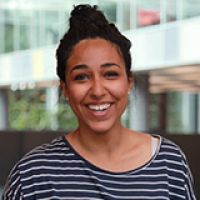 Marina Mohareb
Consultant, Solution49x, KPMG Australia, Melbourne
Bachelor of Business in Business Information Systems and Bachelor of Health Science in Psychology conjoint programmes
She loves the variety of her role, says Marina Mohareb who now works for KPMG in Melbourne.
"As a management consultant at KPMG, my role is centred on delivering end-to-end solutions to drive organisational decision-making. Solution49x uses cognitive computing and AI technologies to automate processes, reduce costs and grow consumer engagement. This growing industry represents the shift in how humans are interacting with technology differently.
"Our projects are varied but include development and implementation of machine learning tools to better align an organisation's output with its goals of consumer engagement. Each time I take on a new project, I get the opportunity to upskill in something or learn something entirely new; whether it be a programming language, design thinking methodology or software."
Discovering her passion
She wasn't always sure what to do after high school, Marina admits.
"I left high school knowing I wanted to pursue tertiary study, but not entirely sure in what form. I chose to do conjoint programmes because of the breadth of study I knew they would provide.
"AUT's business degree allowed me to use my first year to really discover what I wanted to do. What I like about business information systems is that it has a technical and a business focus, which means that the skills I developed at university are very applicable to the workplace. I also chose to study psychology because of my passion for people. The two complemented each other well."
Gaining workplace experience as part of her degree was one of the highlights for her, says Marina who was on the Business School honours roll for two years of her study.
"As a part of my Bachelor of Business, I completed workplace experience in AUT's ICT department. I got experience as a junior business analyst in the ICT strategy and architecture team. This gave me great exposure to the kind of workplace I hoped to be entering."
Vibrant student life
It's not enough to just get through university with a degree, Marina says.
"At AUT, the opportunities to do more, achieve more and gain more are there; it's just about taking that step to sign up and get involved. Join a club, pick up a weekly sport or volunteer. Not only will you gain valuable experience, you'll probably end up making life-long friends. AUT celebrates diversity, and this is evident in what it offers its students."
Marina says the clubs she was part of gave her exposure to a range of opportunities.
"I was very involved in the Management Consulting Club and AIESEC, the largest youth-led not-for-profit organisation in the world. I worked alongside a great team, and developed a strong bond with my friends who I continue to cherish. With the Management Consulting Club I also travelled to Singapore to take part in the Asian Business Case Competition."
The Business Information Systems major is now called Information Systems.