Outstanding alumni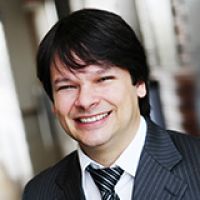 Luiz Mendes-Filho
Assistant Professor, Universidade Federal do Rio Grande do Norte, Brazil
Doctor of Philosophy
Choosing where to complete his PhD was easy, says Dr Luiz Mendes-Filho who came to AUT as an international student from Brazil.
"I had a background in information systems, with a master's degree in production engineering and a bachelor's degree in computer science from Brazil. When I was considering doctoral study, I wanted to have an international experience, studying at a great university.
"I decided to complete my PhD in business information systems at AUT because it's one of New Zealand's top universities and is well-known overseas."
Empowering consumer behaviour
For his PhD thesis, Luiz focused on the importance of user-generated content for the accommodation sector.
"The aim of my research was to understand how user-generated content empowers online consumer behaviour when booking accommodation based on experiences of international backpackers staying in hostels in Auckland.
"The findings of my PhD thesis contributed to the ongoing efforts of the tourism industry and the government to address the management of New Zealand tourism product information. My study helped the accommodation sector become more competitive and support the growth of tourism."
His research received a Top 3 Best PhD Paper Award at the 17th International Conference on Information Technology and Travel and Tourism in Lugano, Switzerland in 2010.
Great infrastructure for research and study
He would recommend doctoral study at AUT to other students, says Luiz who completed his PhD in 2012.
"AUT has a great infrastructure for research and study, including well-resourced libraries, laboratories and classrooms, and highly qualified lecturers. AUT also has a vibrant campus life, and there are plenty of places to have fun or rest when it's necessary."
He enjoyed studying and living in Auckland, although he admits that living away from his family was challenging.
"My biggest challenge was to live far away from my family, but AUT always provided me with support and my PhD supervisor was by my side whenever I needed some help. I really enjoyed the academic environment, and Auckland is very good place to live."