Outstanding alumni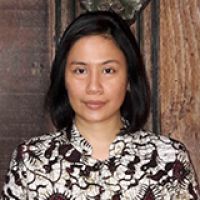 Laksmi Yustika Devi
Head of Economics Laboratory, Department of Economics and Business, Vocational College, Universitas Gadjah Mada, Indonesia
Doctor of Philosophy
AUT's reputation as a contemporary university made it the right place for her doctoral study, says Dr Laksmi Yustika Devi who came to AUT as an international student from Indonesia.
"AUT is a very progressive university in New Zealand. While AUT is a new university compared to others, it's already demonstrating its academic excellence.
"I came to AUT to complete my PhD because I'm a lecturer in economics at the Universitas Gadjah Mada in Indonesia and holding a doctoral degree is a must for this position and to further my academic career."
Rural banks and economic growth
For her doctoral research Laksmi explored the relationship between rural banks and regional economic growth and poverty reduction in Indonesia.
"I chose this topic because alleviating poverty is a top priority for Indonesia and financial inclusion is an essential component of the poverty-alleviation strategy because most of those in poverty don't have access to financial services at a reasonable cost. Rural banks are important because they're designed to support small and medium enterprises, which are the backbone for regional economic growth."
Her PhD research is designed to provide a better understanding of the evolution and development of rural banks in Indonesia and their contributions to the Indonesian economy, Laksmi says.
"I wanted to fill this gap by analysing the specific effect of rural banks on regional performance and regional poverty reduction. My study also provides a thorough analysis of rural bank-related policies by the central bank and regional government. It answers the question whether the policies have a positive impact on the development of rural banks and on increasing rural bank contribution to regional economic growth."
A well-resourced postgraduate environment
The supportive and resourceful academic environment was a highlight of her studies, Laksmi says.
"AUT has all resources required for postgraduate study. It was very helpful to conduct my PhD research in an environment where the university provides you with all the needed resources – from seminars to discuss the research progress to a well-resourced library, and helpful supervisors and staff.
"I was fortunate enough to receive two scholarships to support my studies; the Graduate Assistantship Award from the School of Economics and the AUT Vice-Chancellor's Doctoral Scholarship. I also appreciated the conference assistant award, which enabled me to attend the Annual New Zealand Association of Economists Conference."
She feels honoured to see her hard work recognised with a lifetime membership of international honours society Beta Gamma Sigma, says Laksmi who completed her PhD in 2017.