Outstanding alumni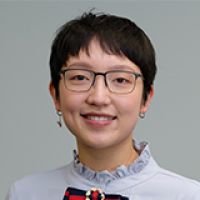 Jessica Lee
Investment Analyst, Auckland Transport
Bachelor of Business (Honours) in Economics
Bachelor of Business in Economics and Finance
Business touches on pretty much every aspect of modern society, says business and economics alumna Jessica Lee who came to AUT as an international student from Hong Kong.
"I decided to study business because business graduates are in high demand worldwide, and I can work anywhere with a business degree. By studying business you gain valuable transferable skills that can be put to use in everyday life, including strong oral and written communication skills, analytical and critical thinking, and presentation skills."
Deciding where to study was easy, Jessica says.
"I chose to study at AUT because AUT is known for its strong emphasis on the practical application of theory, using case studies, problem-solving tasks, project and teamwork, and workplace experience.
"I also liked the idea of studying in New Zealand as it has all the characteristics essential for a balanced lifestyle: a high quality of life, diverse communities, vibrant cities, stunning natural scenery, a range of outdoor activities and, most importantly, world-class university education."
Highlights and support
She has had many highlights throughout her studies, Jessica says.
"The academic staff lead and encourage students along their learning path, and the supporting staff provide great assistance to students. Both the people and facilities in AUT create a great learning environment and prepare students to make a change to society after graduating.
"The highlights of my time at AUT include working as a teaching assistant during my honours study, working in a team to set up a small business, and being nominated to participate in the Shadow a Leader programme, where I got to learn from senior leaders at GE Capital New Zealand. I also achieved 17 academic distinctions and an A- grade overall."
Make the most of university life, Jessica advises other students.
"University isn't just about studying – engaging in more activities outside of the classrooms will enrich your uni life and help you make life-long friends. And don't hesitate to ask for help. People are there to help – from the student learning services to international student support, or counselling and mental health support. There's so much for you to discover."
Making a difference
Since graduating from AUT, Jessica now works as an investment analyst for Auckland Transport.
"Our team is working to optimise funding from the central government for transport projects. I'm responsible for conducting economic analyses and peer reviews to support funding applications. I enjoy the challenges of dealing with different kinds of transport projects, and my role is a great opportunity to work with experienced people in the organisation and learn from them."
She constantly draws on the skills she developed at AUT, Jessica says.
"Throughout my studies I gained a wide range of skills, including analytic, interpersonal and time management skills. I now use these skills in my day-to-day work to assess transport projects from an economic and financial perspective to ensure that our projects offer value for money. Transport is an important part of our city and I'm glad that I can contribute towards improving Auckland's transport system."