Outstanding alumni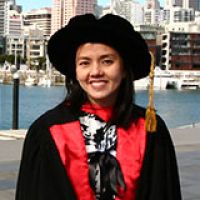 Paweena Wanchai
Lecturer, Department of Computer Science, Khon Kaen University, Khon Kaen, Thailand
Doctor of Philosophy
AUT has a great infrastructure for research and study, says business alumna Dr Paweena Wanchai who completed a PhD in business information systems.
"It was very helpful to conduct my PhD research in an environment where the university provides you with all the needed resources – from seminars to discuss the research progress to well-resourced libraries, laboratories and classrooms, and helpful supervisors and staff.
"Another thing I liked about AUT was that as PhD candidates we had access to a research fund to cover research costs. That was very helpful. I also enjoyed the regular get-togethers for postgraduate students. I would definitely recommend this programme."
Choosing AUT
The decision to come to AUT was an easy one, says Paweena who came to AUT as an international student from Thailand.
"I was working as a lecturer in information technology at Khon Kaen University in Thailand, and holding a doctoral degree is a must for this position and to further my academic career. When I was considering doctoral study, I wanted to have an international experience and study at a great university.
"I decided to complete my PhD in business information systems at AUT because it's one of New Zealand's top universities and is well-known overseas."
Studying in a different country had some challenges, she admits.
"My biggest challenge was to live far away from my family, but AUT always provided me with support and my PhD supervisors were by my side whenever I needed some help. I really enjoyed the academic environment, and Auckland is very good place to live."
A supportive research environment
For her PhD research, Paweena focused on complex mandatory information systems.
"The introduction of a complex system, for example an enterprise resource planning system, requires users to adapt to the requirements of the new system and the associated organisational and business process changes.
"There's a lack of in-depth studies of the process of user adaptation that explains how user adaptation behaviours change over time and what triggers users to modify their system use behaviours. My research unveiled the dynamic adaptation process and offers an explanation of how adaptation behaviours unfold over time."
She appreciated the support of her supervisors, says Paweena whose PhD thesis was supervised by Associate Professor Antonio Díaz Andrade and Associate Professor Angsana Techatassanasoontorn.
"I had supportive supervisors who invested in me and were always available to assist and to ensure that I was on track with my study. They made me realise the importance of going deep and being broad in my research. They also taught me that a true scholar is a life-long learner who is always curious and modest."