Outstanding alumni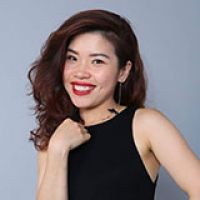 Nga Bui (Natalie)
Industry Manager, Google Singapore, Singapore
Postgraduate Diploma in Marketing
She loves helping companies build their brands in the Vietnamese market, says business alumna Nga Bui (Natalie) who came to AUT as an international student from Vietnam and now works for Google Singapore.
"I enjoy working with the brand managers and marketing managers to build their multinational brands in Vietnam.
"One of the highlights for me is being able to apply Google's breakthrough technologies to our range of marketing campaigns. I also love that in this role I can use my understanding of the latest marketing practices and of the Vietnamese market."
The skills to succeed
She constantly draws on the skills she gained at AUT, says Natalie who graduated at the end of 2017.
"In my work at Google, I often use the critical thinking skills and the self-awareness I developed through my studies at AUT to understand my clients better and help them to grow their businesses in more meaningful ways."
She says her time in New Zealand was invaluable.
"In my interview with Google they asked me to tell them who I was outside of the workplace. Before living in New Zealand, I wouldn't have known how to respond to this as my life was all about my work. My time in New Zealand allowed me to learn more about my personality and discover the things that give me fulfilment outside of the office."
A great study destination
A successful marketer in her native Vietnam, Natalie enrolled in postgraduate study to sharpen her professional skills.
"I've been a marketer for more than a decade. I love what I do but I wanted to sharpen my skills, and learn what I don't know to stay on top of my industry. Most importantly, I wanted to learn how to grow my brands in a more meaningful way that adds value to my consumers and community."
Choosing to come to New Zealand for her studies was an easy decision, Natalie says.
"I came to New Zealand because it's a beautiful country, and I knew I could study mindfully and be close to nature. My weekend road trips, going trekking and visiting the hot pools were some of the highlights of my time in Auckland. They were more beautiful than heaven to me."