Outstanding alumni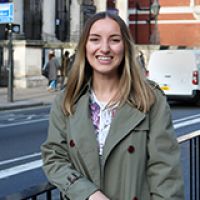 Lucy Conyngham
Sales and Marketing Coordinator, CoGo – Connecting Good, London
Bachelor of Business in Entrepreneurship and Innovation
AUT is crafting the next generation of business leaders who are ready to solve some of the world's biggest challenges, says Lucy Conyngham.
"I would definitely recommend the AUT business degree as it not only teaches you the latest business knowledge through a collaborative and hands-on approach, but also opens your mind to the endless possibilities business offers. I loved being challenged every day and getting the opportunity to constantly grow.
"AUT is instilling ethics and sustainability into every student from the start, so that by the end of our degrees we're ready to create a positive impact through any career we choose to build. Looking back at my degree, my biggest achievements were not just the grades I got, but also the multiple business ideas my studies sparked, and the networks of creative and talented people I leave with."
A taste of London life
For her final-year workplace experience, she moved to London to intern at Worth Capital, a venture capital firm pioneering the largest seed funding competition for start-up businesses and entrepreneurs in the UK.
"While I was mainly supporting their marketing efforts, I also got to be involved with the judging process of these monthly competitions along with the co-founders. That meant I was exposed to hundreds of applicants and got to follow the early stages of some of the UK's most promising start-ups.
"What I loved the most was seeing the investor's perspective and getting the inside scoop on what they look for in budding entrepreneurs and their business plans. Working in London was of course also an incredible new experience."
After completing her workplace experience, Lucy decided to remain in London and is now working as the sales and marketing coordinator for CoGo – Connecting Good, which connects consumers with businesses that care about the good of people and the planet.
Advice for other students
"Make the most of your time at university, Lucy advises other students.
"Uni is an incredible place full of endless recourses, people to network with, lecturers to gain wisdom from and activities to get involved in. It's your chance to decide how much you put into it, which will dictate how much you get out of it.
"Get out of your comfort zone, meet new people, do a student exchange or even experience a new city for your workplace experience."
Don't worry if you're still unsure what you want to do, she adds.
"University is the best time to invest in yourself as you figure out who you want to become and the impact you want to make. Trust me, we're all still figuring it out after leaving uni but with a degree like this, we're one step closer."