Outstanding alumni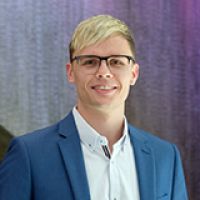 Jake Barker
General Manager, HR Matters / General Manager, Race Marketing
Bachelor of Business in Human Resource Management and Employment Relations & Marketing
He has always dreamt of running his own business one day, says business alumnus Jake Barker who is now the general manager for B2B businesses HR Matters and Race Marketing.
"I love my job – it's always so varied! I work with a great team who are all focused on delivering the best outcome for our clients. I also love being able to forge the direction of my businesses while gaining input and ownership from our staff.
"My job involves everything you can think of when running a small business – from managing and motivating staff members, to client relations and creating marketing plans to attract new clients. I'm directly using all of the knowledge I developed during my studies at AUT."
A forward-thinking approach
AUT's practical and forward-thinking nature attracted him, Jake says.
"I think what sets AUT apart is the way it enables students to think outside the box and really tackle real-life problems. There's an almost 50:50 ratio of lectures and smaller classes, which enables students to not only understand the content but to relate it to a real-life context."
He says the workplace experience at the end of the business degree is an example of this forward-thinking approach.
"Through the workplace experience AUT business students can apply the knowledge they've learnt in an internship or job. I loved the opportunity to run my own business and apply the learnings I had made at AUT to a living business."
Making the most of the opportunities
There were many highlights throughout his studies, Jake says.
"I enjoyed studying alongside my fellow students, participating in the events on campus and being able to engage with my lecturers whenever I needed. Studying at AUT is so welcoming, multi-cultural and forward thinking.
"While I was at AUT, I received multiple top achiever awards, including being the top scholar for both human resource management and employment relations, and marketing. Other highlights for me were participating in the Shadow a Leader event, and being the AUT student association's representative for business."
Enjoy your time at AUT, Jake advises other students.
"Study a topic you enjoy, make good friends and when times get tough, take a step back to look at your overall goal. And when it comes to study, starve your distractions and feed your focus."