Outstanding alumni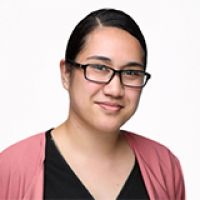 Lisi Ki Moana Tupou
Assistant Secretary, Corporate Services Division, Prime Minister's Office, Government of Tonga
Bachelor of Business in Human Resource Management and Employment Relations
She has always been interested in human resource management and employment relations, says Lisi Ki Moana Tupou who came to AUT as an international student from Tonga.
"I chose to study the Bachelor of Business in Human Resource Management and Employment Relations because I wanted a deeper understanding of human resource management and had always been passionate about the discipline.
"I've always had an ingrained appreciation for the proper management of employees, specifically recruitment, training and development to help employees achieve maximum performance."
A family away from home
Choosing where to study was easy, says Lisi who was supported by a New Zealand Aid scholarship throughout her studies.
"When I was shortlisted for the scholarship, I could pick two universities to apply to. I researched all my options, and AUT stood out because it had the best reviews in terms of support and a family-like culture. I knew that every university would give me a degree, but I also wanted a university that would give me a family away from home. AUT was that university.
"At AUT, I met friends who have become my family away from home and even now, as I have graduated and returned home, we still keep in touch. I can't explain how much they mean to me. They saw me through my most trying times and knowing I didn't make the journey alone is a special feeling."
She enjoyed helping other students adjust to their first year at university, says Lisi who was one of the highest achieving students in the Department of Management and was on the AUT Business School's honours roll in her first year.
"The idea of the university workload, deadlines and failing scared me as a first-year student. As a student mentor and student ambassador I could change this for other students. It remains my favourite university memory. It was my way of giving back and it felt great when students messaged me to say they went from failing their mid-semester test to passing their final exam with an A."
Making a difference
Since graduating in August 2018, Lisi has returned to Tonga and is now working for the Tongan government in the Prime Minister's Office.
"My job focuses on handling and addressing human resource issues within the whole organisation. It's a busy but very rewarding role. I like learning about how human resource management is practised in Tonga, and enjoy participating in activities that ensure that employees are appreciated and motivated to contribute to organisational goals."
She constantly draws on the skills she developed throughout her time at AUT.
"I'm often multitasking at work. I've found that the skills I acquired from being a student ambassador at AUT are helping me handle the varying tasks with tight deadlines. Thanks to my studies I also have a deep-rooted appreciation for performance management, and am motivated to ensure that our performance management activities are well executed."