Outstanding alumni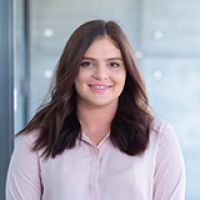 Katie Creagh
Solicitor, Anderson Creagh Lai Limited
Bachelor of Laws with Honours (First Class) and Bachelor of Business in Finance
She loves the challenges her law career offers, says AUT law alumna Katie Creagh who is now a solicitor at Anderson Creagh Lai Limited.
"I enjoy being mentally challenged on a daily basis. I currently split my time between the corporate and commercial litigation teams. This means that my role ranges from drafting corporate agreements and resolutions, and assisting in corporate restructuring and negotiations, to drafting opening and closing submissions, statements of claim and other litigation documents.
"I also undertake legal research and review documents for discovery. I love research, so being able to continue researching in practice has been particularly enjoyable."
Highlights and achievements
There were many highlights during her time at AUT, says Katie who received a number of awards throughout her studies and was selected for membership of international honour society Beta Gamma Sigma.
"My highlight was giving the graduation speech on behalf of the graduands in my ceremony. It was an honour to be asked to give the speech, but the fact that I did it also reflected my growth at AUT. In high school I would never have dreamt of speaking in front of a large auditorium of people, but the presentations and moots I undertook as part of my law degree prepared me well for this.
"The people I met during my studies were another highlight. I met a diverse group of students from different backgrounds and countries of the world, some of which have become my closest friends."
She also appreciated the contemporary nature of the AUT law degree.
"Some of the papers analysed the interaction of New Zealand law with new innovations and technological challenges. For example, I wrote an essay on the legality of drones within the New Zealand legal system, while some of my fellow students wrote essays on the legality of bitcoin, or using blockchain technology within the legal system."
Advice for other students
Katie, who graduated from AUT in 2018, has some great advice for other students.
"Get to know your fellow students. I made some of my best friends at AUT. A law degree takes a lot of work and having a good group of friends to study with is much more enjoyable than studying alone.
"My other piece of advice is to spend time learning how to use the databases. In my role now, I'm constantly on Westlaw NZ or LexisNexis, so the research skills I learned at AUT have been invaluable."
If you get the opportunity do the honours degree, she adds.
"Writing your dissertation on a topic you enjoy is rewarding, and the research and analytical skills you'll develop will be invaluable. Having to fit all that research into 10,000 words will also ensure you learn to write clearly and concisely; another great skill for practice."
Employer comment
"Our legal graduate hiring policy can be summarised as 'good person, good lawyer'. In short, is this person fundamentally a decent human being, and does he or she demonstrate the attributes necessary to become a good lawyer? Katie easily met both key requirements. To be an excellent corporate and commercial law practitioner, it is important to understand how business works. Katie's Bachelor of Business in Finance was a real plus, as this gave her a solid grounding in the key finance concepts that are relevant to the type of work we do."


Jeffrey Lai, Managing Director, Anderson Creagh Lai Limited