Outstanding alumni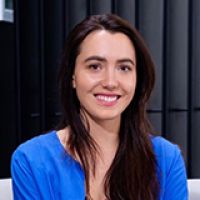 Lucy Brock
Senior Creative Strategist, Motion Sickness
Bachelor of Business in Marketing and Bachelor of Communication Studies in Advertising Creativity conjoint programmes
Creativity has always been something she wanted in a job, says AUT alumna Lucy Brock who is now a senior creative strategist at independent creative agency Motion Sickness.
"On any given day I can be found working on anything from writing a creative campaign strategy or a social media strategy, to shooting or directing content, writing reports, pitching ideas, buying media or meeting with a client. There's always lots to do.
"I love that the work is varied, creative and strategic. I also enjoy working for brands that I truly believe in. I'm working alongside such a talented bunch of people who are ambitious, energising, and incredibly talented at what they do. Another thing I enjoy about this role is the opportunity for learning. I'm in an industry where things are changing all the time. It's exciting."
She feels lucky to have worked for a number of successful New Zealand companies she admires, Lucy says.
"In my final year at AUT, I completed my workplace experience at Les Mills International where I then landed my first full-time role out of university. After two years in that role, I took the next step up and worked for Icebreaker, before joining Motion Sickness. I'm really proud to be working in my dream job for an incredible New Zealand company at 23."
Making a difference
In addition to her work at Motion Sickness, Lucy is also using her skills to support newly created charity BRAVE.
"BRAVE aims to raise awareness and educate young people on sexual violence in New Zealand. It's a topic that's not often talked about but it needs to be. One in three girls in New Zealand will be subject to an unwanted sexual experience by the age of 16, and one in five women will experience sexual assault as an adult. Young people are statistically at the highest risk of sexual assault.
"We want to see all young New Zealanders feel empowered and brave enough to ask for help if they have been affected by sexual harm in any way. We'd also like to see the stigma around sexual violence disappear so that the topic can be talked about more freely within our communities."
BRAVE was created in 2018 by fellow AUT communication studies alumna Jessica Tyson; a Māori Television news reporter and Miss World New Zealand 2018.
Prepared for the changing world
She wanted a career that was both business oriented and creative, says Lucy who was supported by an AUT Vice-Chancellor Scholarship throughout her studies.
"I decided to study the Bachelor of Business and Bachelor of Communication Studies conjoint programmes because I wanted to pick a path that would provide a wide range of career opportunities further down the track."
Choosing where to study was easy, Lucy says.
"AUT always appealed to me. I like that it's such a progressive university with a foot in the real world, and an understanding of how things are changing and evolving. I also like that many of the academic staff work in the industry they teach about.
"I think AUT understands that education needs to stay relevant, and it understands its audience. Millennials and Gen Z's are used to change. We expect it. We also admire and relate to businesses, brands, leaders and universities that accept that life as we know it has sped up and that the world is evolving all the time. AUT gets that."
Advice for other students
Map out your dream career, Lucy advises other students.
"Figure out who you really want to work for; whether it be the brand or business you admire, or the leader within an organisation that you aspire to be like. Then work backwards. Figure out the degree and the path that will help you get there.
"Seek out opportunities, don't be afraid to ask a bunch of questions and do whatever you can to get a foot in the door. Be the positive person people enjoy being around. Understand that no experience is ever wasted; you just have to be intentional about the kind of experience you want to have."
She is proud of what she's achieved during her time at AUT, says Lucy who graduated in 2016.
"I'm really proud to have completed my conjoint programmes in three years. Taking on extra papers each semester helped to develop my work ethic, time management skills and allowed me to finish my degree faster than normal, so that I could enter the workforce earlier."