Outstanding alumni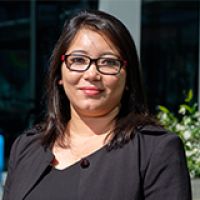 Meghana Lama
Human Resource Analyst, Auckland Transport
Master of Business
AUT is a marvellous melting pot, says business alumna Meghana Lama who came to AUT as an international student from India to study a Master of Business.
"AUT has students of different ages, abilities, ethnicities, backgrounds and worldviews. Peer learning is therefore fabulous, and the exchange of different ideas contributes to the overall learning process.
"Despite being new to New Zealand when I joined AUT, I felt at home from day one, and that speaks volumes of the spirit of inclusion that AUT stands for. AUT offered me plenty of opportunities to mingle with other students and academic staff, and create a support system for myself."
A better understanding of Indian migrants
Meghana enrolled in AUT's Master of Business after a successful career in human resources.
"I had eight years' experience in the area of human resources, and could see that the Master of Business would enable me to marry my previous work experience with my desire to lay ground for doctoral research in this area in the future."
For her master's research, she focused on the early work experiences of skilled Indian migrants in New Zealand.
"Indians have been one of the fastest growing ethnic communities in New Zealand over the last few years, and the bulk of Indian immigrants falls in the skilled professional category. Given that the workforce in New Zealand is multi-ethnic and that Indians form a sizeable portion of this workforce, my study aimed to understand the challenges faced by this group.
"The findings of this study could be used by organisations to understand the barriers faced by this group when they seek to enter the corporate world in New Zealand, as well as the challenges they face during the transition."
A rewarding career
After graduating from AUT in August 2018, Meghana now works as a human resource analyst at Auckland Transport.
"Because I work in the data analytics side of human resources, my work enables me to liaise with various stakeholders and support them in crucial decision making."
There are many things she loves about her work, Meghana says.
"The scope to add value to key projects and the opportunity to continuously learn new skills on the job are some of the many things I love about my career."