Outstanding alumni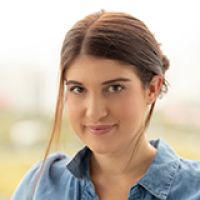 Brittany Kendall
General Manager, Bladescenes
Bachelor of Business in Marketing, Advertising, Retailing and Sales
She loves working towards her own vision, says Brittany Kendall who is now the general manager of fast-growing real estate marketing agency Bladescenes, a business she started alongside her partner during their studies at AUT.
"My partner and I started Bladescenes when I was studying in the lecture theatres of AUT. We were lucky enough to be one of New Zealand's first drone aerial imaging companies. Today, we're one of New Zealand's largest real estate marketing agencies, offering photography, aerials, videography, agent profiling, graphic design, virtual touring, social media and more.
"We work alongside many of the country's leading real estate agents, helping them sell homes as a lifestyle. My role is very much strategy and implementation; finding ways to streamline our internal processes to enable us to grow at the rapid pace we have over the last few years. I truly enjoy everything about my job," Brittany says.
"I love being surrounded by our fast-growing young team of passionate and driven creatives. It's important to me that we created a modern, engaging workplace for our young team, with a culture of 'work-hard/play-hard'. Our team believes in celebrating our wins collectively, as we work together to achieve business growth. An engaged team is a powerful one."
The skills to succeed
She constantly draws and builds on the skills she developed during her studies, the AUT business alumna says.
"I learned a lot about consumer behaviour, customer relations and the rapidly evolving digital marketing landscape. I've applied a lot of this to my work, layered with my own practical experiences. I also took a real interest in business sustainability while I was studying. That's an approach I've transferred to my career, especially in my previous role with Regal Drycleaners, trying to challenge the status quo and reduce our carbon footprint."
She had many highlights throughout her studies, Brittany says.
"I thoroughly enjoyed many of my classes, learned a lot about digital marketing and also about myself, but most importantly I made some amazing friends who have also gone on to create and work in some awesome roles all around the world. We have stayed in touch, and it's actually offered some cool collaboration opportunities in the workplace."
Giving things a go
Although Brittany doesn't describe herself as a 'high achiever, or straight A student', she believes that her attitude toward giving things a go was a critical element to her leaning.
"For me it wasn't 'winning' that mattered, it was the lessons and experience you gain along the way.
"What I've learnt about the workplace is that it's not your IQ that matters the most; it's your work-ethic and ability to relate to people that surmount your raw IQ".
Creating world-ready graduates
AUT truly understands what it takes to succeed in the modern world, says Brittany who graduated in 2017.
"AUT's lectures are relevant and cover skills that you'll be able to apply in a marketing landscape that has drastically changed over the last ten years.
"Learning in a classroom environment is totally different to a dynamic, fast-paced work setting. I think AUT does a great job at preparing students with a basis of theoretical knowledge, but also the skills to apply these in a practical, realistic environment. For me, this skill was invaluable."
She initially started at a different university but transferred to AUT after her first year, Brittany says.
"I recognised that AUT's practical, modern approach to learning was much better suited to me, and my vision for my future. I was stubborn and convinced university was not for me, but my three years at AUT ended up being some of the greatest and insightful years of my life."