Outstanding alumni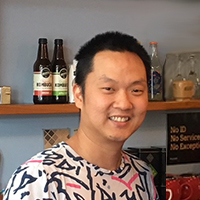 Nam Do
Owner / Manager, Fusion Café
Bachelor of Business
Follow your passion, says business alumnus Nam Do who came to AUT as an international student from Vietnam and now owns the popular Fusion Café in Ponsonby.
"My advice for other students is to take the time to identify what you love to do and make those decisions for yourself.
"It's good to listen to others but be willing to stand up for what you want, and take risks for the right opportunities."
Following his passion
Nam bought Fusion Café with his wife in 2015, after working there as the manager for a number of years.
"Successfully establishing our own business has been one the highlights of my career so far, and I'm proud of the fact that we were recently named as one of Metro magazine's top 50 cafés in Auckland.
"Managing this café has been a huge team effort. My wife does so much behind the scenes, including designing our menu, and working with so much support has made it really rewarding."
What he loves most about his work is that no two days are the same, Nam says.
"Every day presents new challenges and opportunities. It's a challenging industry to be in, so you have to think creatively about meeting the needs of your customers, which makes the work really interesting. The people I interact with every day come from all backgrounds, and there's a community feel in the work we do.
"I took a big risk and it's paid off. It's been a massive learning curve, and all the lessons from my AUT management classes came rushing back to me. Two of our staff are also from AUT, and I think our work is a great platform to support and mentor other students."
A new life in New Zealand
His parents encouraged him to study in New Zealand, says Nam who came to Auckland to attend Mt Roskill Grammar School before enrolling at AUT to study business.
He appreciated the freedom of choice AUT's Bachelor of Business offered.
"I liked that we could try papers from different majors in our first year before deciding which one was right for us. I had a lot of support and helpful information sessions run by AUT staff to ensure I chose the majors that were right for me. But getting a taste of everything first was great.
"I also liked the structural thinking and learning processes we were taught at AUT – thinking about the input needed to achieve the output, the operational side of management, and the ethics papers and case studies we looked at. The leadership and management paper was also a favourite."
The Bachelor of Business prepares you well for the future, Nam says.
"Having case studies and being able to practically apply your learning while you're still doing your bachelor's degree is great. It gives you an appreciation for what real life will be in your field."