Outstanding alumni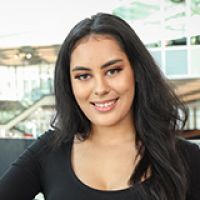 Shae Parsons-Wanoa
Communications Intern, Baldwin Boyle Shand, Singapore
Bachelor of Business in International Business and Bachelor of Communication Studies in Public Relations conjoint programmes
Ngāti Porou, Samoan
For Shae Parsons-Wanoa studying communications at AUT is a bit of a family tradition.
"AUT is somewhat of a family choice, and I'm the fourth AUT communication studies graduate out of my siblings. I was raised to always think outside the box, or even better, to think of a new box altogether. AUT embodies this, not only by teaching applicable subjects and courses, but by taking bold moves and forging a new path that older universities end up following.
"AUT was a sure-fire choice for me – I needed a university that would enable me to flourish in an innovative and creative manner, and AUT gives you the opportunity to do what no other person your age is doing; to really navigate that uncharted territory."
The support to thrive
AUT has been hugely supportive every step of the way, says Shae who received a Significant Student Scholarship to support her studies.
"AUT is doing things many other educational providers just wouldn't consider – think CV help and demonstrations on how to do job interviews, especially remote-based ones. It's the little things that really distinguish this university from the rest."
Her biggest highlights at AUT came from outside of the classroom, Shae says.
"The highpoints for me included working as a media intern for the New Zealand Fashion Week and participating in the BizTech Labs Competition 2018. I was also an event co-ordinator for the AUT Scholars Society, which won the AUTSA Community Engagement Award for 2018, and was involved in planning and organising a university charity ball for the AUT Scholars Society.
"I enjoyed learning a lot, but to put the theoretical components into practice really helped me realise where I wanted to go and what I wanted to do. I also made life-long friends while I was AUT and loved seeing them do things beyond many people's imaginations."
Valuable international experience
This year, Shae gets to apply the skills she developed on an international stage – through the AUT Internz International Scholarship Programme she is currently interning for international communications and PR agency Baldwin Boyle Shand in Singapore.
"I help to monitor media across multiple countries, and analyse the conversations the press and general public are having about our clients and relevant activities they may be involved in. I'm also involved in writing internal communications, and in the event organisation and media outreach for various events in Singapore for our clients, including some for Sea Asia, Air New Zealand and New Zealand Trade and Enterprise. No two days are ever the same, and the tasks are definitely varied and exciting."
Her internship will help her stand out in the increasingly competitive job market, Shae says.
"Working for iconic New Zealand organisations like Fonterra, Tourism New Zealand and Air New Zealand allows me to create ideas that connect to New Zealand Inc's strengths in an international context. Other clients like Royal Caribbean and Johnson & Johnson also expose me to international business practices, and teach me how to communicate to a variety of audiences. I'll be able to come back with a breadth of international experience."
Advice for other students
There are too many people pushing an image to employers that is generic and not authentic, Shae says.
"My biggest piece of advice would be to figure out your strengths and weaknesses – and this takes some serious reflection, which isn't always the most pleasant activity – and then build a personal brand off what you can offer.
"Employers and potential business partners don't want a bland, run-of-the-mill graduate with all the right grades and no distinctive traits or features. They want someone that will fill the void they're looking for. This means making yourself indispensable to people you work with, so go the extra mile and don't be afraid to do what others aren't doing."