Outstanding alumni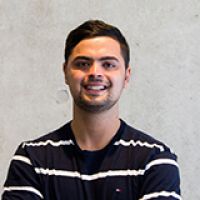 Montana Northcroft
Marketing Intern, Kettlebell Kitchen, New York City
Bachelor of Business in International Business and Market Insights: Marketing, Advertising, Retail and Sales
Ngāti Tuwharetoa
He wanted a university experience that's not just about what you learn in the classroom, says business alumnus Montana Northcroft.
"I wanted an experience that is more hands-on than the more 'traditional' university experience. I think the forward thinking sets AUT apart from other universities. I truly believe AUT is leading the way within New Zealand universities in many areas, from the technologies to the opportunities for students to excel, not just during their time at AUT but also long after they leave."
Take every opportunity AUT throws at you, Montana says.
"There's a big world out there and if you want to see and experience it, and learn as much as you want, AUT will do that for you. Looking back over the last year, AUT has given me the chance to spend 10 months in the United States, gaining experiences I could only have dreamt of if I hadn't taken up the opportunities AUT offered me."
On exchange in Florida
Going on a student exchange to the University of North Florida in Jacksonville was one of the highlights of Montana's time at AUT.
"Getting to experience an American university not only improved me as a student but also as an individual. It has given me life experiences that I would have never received without going outside of my comfort zone.
"The student exchange as a whole was an amazing experience, allowing me to not only immerse myself within the American lifestyle, but also to understand how business operates differently outside of New Zealand."
Montana says he is grateful for receiving the Eric and Kathy Hertz Māori and Pacific USA Exchange Scholarship, which helped him fund his time in the US.
At the heart of the Big Apple
After graduating at the end of 2018, Montana is now back in the USA, working as a marketing intern for Kettlebell Kitchen in New York City. He got the sought-after internship through the AUT Internz International Scholarship Programme.
"Kettlebell Kitchen operates out of New York City, a place where I've always wanted to work and live. I'm involved in a range of marketing jobs, from assisting with new marketing campaigns to reaching out to influencers who could help us grow our social media influence. This internship allows me to combine a few of my passions – food, fitness and marketing – so for me it's the perfect role."
The AUT Internz programme makes it easy to transition from university to the workplace, and gain valuable international experience at the same time, says Montana.
"It can be tough leaving university, going from a structured environment to the open working environment where you have to compete with individuals with different work and life experiences for jobs. I saw the AUT Internz programme as a great opportunity to enter the market and gain valuable experience with a well-respected company."