Outstanding alumni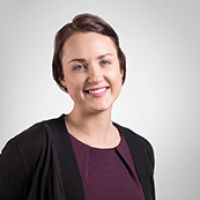 Bridget Dawson
Corporate Relationships Manager, Barnardo's UK, London
Master of Business (First Class Honours)
Bachelor of Business (Honours) (First Class Honours)
Bachelor of Business in Management and Marketing
Ngāti Kahu, Te Rawara, Te Aupouri
If job satisfaction is the measure of success then AUT business alumna Bridget Dawson is flying high.
In her role at Barnardo's in London, Bridget works with corporate partners to drive value for the UK's largest children's charity through fundraising, gifts in kind and volunteering.
"At Barnardo's we don't do the easy stuff – we work with dedicated teams and offer specialised services to transform the lives of the UK's most vulnerable children and young people.
"I'm inspired by the opportunity to transform people's lives through empowerment, learning and development, and diversity and inclusion. Barnardo's wraps all of these into our core values to ensure our service offerings are optimised to offer the best outcomes for more children each year."
Valuable overseas experience
The charity sector in the UK is established and historical, with the Barnardo's charity itself being 150 years old. Bridget says she has been moved by the generosity and charitable nature of the people in the UK.
She says she couldn't recommend offshore work experience enough, and has been stimulated and encouraged by the way her perspective has changed; constantly learning about working in new cultures and institutions.
"By the end of each week, the people and experiences I've been exposed to alter my view of the world, and that shapes my actions and behaviours. I'm constantly learning and developing, along with our partners and the young people we serve."
The skills to make a difference
Her Master of Business has given her a great foundation for building meaningful relationships, and for recognising and understanding the value of diversity and inclusion, Bridget says.
"Through my master's degree I began to develop an appreciation for the challenges and opportunities disadvantaged communities face in the rapidly changing landscape we now live in. This specialised subject knowledge and understanding is invaluable for my work now and into the future.
"I often refer to not only my research findings but to the transferable skills I used to complete my master's thesis, including active and empathetic listening, critical thinking, data analysis, project management and a greater ability to communicate."
Be curious, continue to learn and pursue your passion
Bridget first came to AUT to enrol in the Bachelor of Business, inspired by the business-related subjects she studied in high school. She soon found her passion, and after completing her Bachelor of Business, she continued into postgraduate study to build her knowledge base.
Her advice to other students is to embrace the opportunity to explore, learn and journey with others.
"Don't fixate on how you can climb the corporate ladder, rather be open and curious to constantly learn, unlearn and relearn – focus your energies on understanding and pursuing what you're passionate about.
"AUT is an innovative and forward-focused university with graduates who are adaptable and agile, we learn methods of working and skills which are transferrable and commendable in the global stage."