Outstanding alumni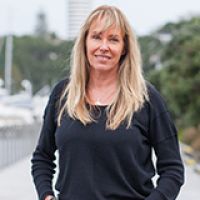 Cathy Carter
Photographer and Installation Artist
Master of Art and Design
Bachelor of Visual Arts
AUT offers a great environment to study visual arts, says AUT alumna Cathy Carter whose work has earned her international acclaim, including being a finalist in the Wallace Art Awards in 2018, 2017, 2016 and 2014, and the Sydney Head On International Portrait Competition in 2018, 2016 and 2015. She was also a finalist in the Paris Fifth Annual Exposure Awards in 2015, and in the Walker and Hall Waiheke Art Prize 2017, 2016.
"AUT is a wonderful environment full of like-minded people who are supportive and encouraging, critical and ambitious, and interested in the exploration of art and life. It's great for sharing ideas and expertise, and there are many opportunities to take part in projects and exhibit your work outside of the actual curriculum.
"The visual arts programme is fantastic, even for students who may not end up practising art as a career. It's a reflective and creative environment where you learn to think laterally, critically and creatively. It teaches you a lot about yourself, and the commitment of the teaching staff to students' individual growth is amazing."
Since graduating in 2013, Cathy has been working as a full-time artist, drawing inspiration from the ocean for her work. Projects in 2017 included a solo show exhibiting her work Oceanids Rising in the Sydney Head On Festival, six works curated by Rob Garrett to show in SPIRACJE 12, 'Breathtaking' in Szczecin Poland, an artist residency for six weeks at Waimarama Beach in the Hawke's Bay and work in Auckland in both the Photography Festival and Artweek.
This year, Cathy had a solo show at The Percy Thompson gallery in Taranaki and in November she has a solo show at Allpress Gallery. She is planning an exhibition combining installation art with photography.
Creative processes and practical skills
Cathy's studies helped her develop many skills that are invaluable for her career as an artist now.
"The most valuable skill I learned was about the creative process; allowing a project to flow and alter its course through the making. AUT also helped me develop and have confidence in my 'critical eye' and to write about my work, which is an essential skill for submitting proposals for exhibitions and competitions."
The outstanding facilities also made it easy to try out different techniques, Cathy says.
"AUT has wonderful facilities – it was a great environment to learn how to use different technologies involved in creating installations using video, sound and lighting. I also developed strong practical skills in terms of editing and processing photography, as well as learning how to print work."
Choosing postgraduate study
Postgraduate study helps you hone your skills as a professional artist, Cathy says.
"I had completed my Bachelor of Visual Arts at AUT, and I wanted to continue to develop my art practice and become a professional full-time artist. The programme itself is challenging, but that's a good thing. Students have access to great work spaces on campus, and there was plenty of flexibility to fit your study around your other commitments," says Cathy who balanced study with her growing family.
For her research project, she focused on the potential of an art encounter to be more than an observation.
"My research project explored how an art encounter can connect the viewer to interior feelings and imaginative associations to form a visceral, psychologically-compelling experience. The project used a multi-sensory approach – including photography, moving image and installation – to investigate seeing art as experience rather than solely observation."