Outstanding alumni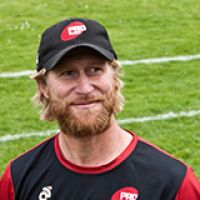 Simon Fathers
Director of Performance, SFPT – Simon Fathers Performance Training, San Francisco
Bachelor of Sport and Recreation in Sport and Exercise Science
Now based in San Francisco, AUT sport and recreation alumnus Simon Fathers loves being self-employed and running his own company.
"I've always been passionate about helping others when it comes to sport and rehabilitation, and change their lives for the better. I now have my own company, SFPT – Simon Fathers Performance Training, and I often find myself integrating the skills I learned at AUT when it comes to planning and evaluating our business framework.
"I love working with such a range of different people. I get to work with some of the world's best big wave surfers and elite athletes from a variety of other sports, including rugby, rugby league, mixed martial arts, track and field, and football. But I also enjoy helping weekend warriors and ordinary people improve their lifestyle and quality of movement."
A recent initiative Simon is particularly proud of is the tactical and performance rehabilitation programme, which supports the police, fire, coastguard and tactical departments in the San Francisco Bay area and gives them access to SFPT's experienced team of nutrition, medical and performance specialists.
Advice for other students
Having graduated in 2013, Simon has some great advice for other students.
"Get plenty of work-based experience before you leave school, and commit to learning and upskilling throughout your time at AUT. It will be great preparation for when it's time to use your degree in the job market.
"I already worked full-time in professional sports when I started my degree, and studied alongside these commitments. Balancing the workload was hard at times, but AUT helped me stay on track and the support services where amazing," says Simon who has worked with international rugby teams like Argentina and Guam, the Bay of Plenty and Waikato Rugby Unions, and elite special forces units within the US military.
Valuable workplace experience
The opportunity to complete his workplace experience at one of the world's leading human performance training facilities was the highlight of his studies, says AUT sport and recreation alumnus Simon Fathers.
"I was the first Bachelor of Sport and Recreation student to do my workplace experience abroad. The fact that I was able to complete my work placement in the USA shows AUT's willingness to always look at new ways to improve the quality of its graduates.
"I did my practical experience in the USA at the Athletes Performance Institute (now known as EXOS), a global leader in integrated performance training, nutrition and physical therapy to maximise athletes' potential. This turned out to be the best opportunity in my life, and has led to many opportunities to travel and work at the highest levels of many sporting, military and corporate areas."