Outstanding alumni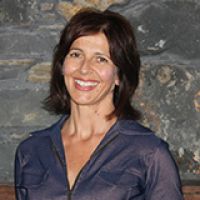 Ann Glamuzina
Author of Rich Man Road
Master of Creative Writing
AUT creative writing alumna Ann Glamuzina says she "found her tribe" when she enrolled in the Master of Creative Writing programme.
"I loved meeting like-minded people. I had never really met any writers, and at AUT there was a whole bunch of people just like me who were enthusiastic, and loved words and writing," says Ann whose first novel, Rich Man Road, was published in 2015 and reached number one on the New Zealand Fiction Bestseller lists. She is now a full-time writer and is working on her next two novels.
Starting out
Like many people who love writing, Ann had been to university and studied law, but in her heart she always knew she was a writer.
"When I first went to university in the late 1980's, I didn't know that courses in creative writing existed. So I did what a lot of people do who quite like writing but think it's probably best to get a 'proper' job – I enrolled in a law degree," she says.
When AUT's Master of Creative Writing was launched, an advertisement for the new degree caught Ann's eye.
"I'd always thought of myself as a writer and continued to write vignettes and scenes as I started working as a lawyer. I constantly told myself that one day I'd write something publishable, but it never seemed to be the right time. Then one Sunday, I read an advertorial piece about AUT's Master of Creative Writing, and I knew I'd found that impetus."
New beginnings
Ann says AUT gave her the confidence to start thinking of herself as a writer, and she would highly recommend the programme to others.
"I would absolutely recommend doing a Master of Creative Writing. If you're serious about writing and need that little push to give you confidence and get you going, then you should consider this degree.
"It gives students structure and introduces writing theory, and the classes provide a collegial atmosphere, as each student pursues their individual creative journey. There really is no downside!"
Don't be afraid of the exegesis component, she adds.
"The exegesis was surprisingly helpful to me in understanding my writing process and who I am as a writer."