Science alumni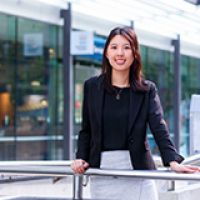 Sally Be
Senior Geospatial Analyst, Stormwater Team, Auckland Council
Postgraduate Diploma in Geographic Information Science
Geographic information systems are vital for a wide range of roles, says AUT science alumna Sally Be who now works as a senior geospatial scientist at Auckland Council.
"GIS is essential for a number of disciplines, including conservation, health, marketing and urban planning. Many organisations in the public and private sectors need to make sense of information that is, for the most part, inherently spatial.
"Whether you want a career in geographic information science or want to develop an additional skill, I believe having expertise in GIS is beneficial in whatever career path you choose."
The power of GIS
In her role at Auckland Council, Sally uses her understanding of geographic information systems daily.
"My main tasks include stormwater asset data maintenance and providing geospatial support for the wider team, including mapping projects, data analysis and using web-based and cloud enabled GIS to capture, store, visualise, analyse and interrogate data."
She enjoys being part of a team that encourages creativity, innovation and professional development, Sally says.
"I've seen how many of our projects, tasks and functions heavily depend on the integrative and analytical power of GIS. The team is always open to new ideas and I'm able to fully immerse myself in my work and look for ways to carry out tasks and functions more smartly and efficiently."
Choosing AUT
With a passion for geography, graphic design and technology, GIS felt like the natural career path for Sally.
"As my undergraduate degree in environmental sciences and geography was coming to a close, I knew I wanted to further specialise in GIS. I was immediately fascinated by how GIS brings together geographical information and enables people to analyse patterns and better understand relationships."
Choosing where to study was easy, Sally says.
"AUT's Dr Barbara Bollard-Breen and her enthusiastic response to my enquiries about the programme had a significant influence on my decision to apply. I liked that the programme offers a good mix of skills in a variety of disciplines including health, remote sensing and conservation. I also knew that the GIS internship the department offered would be a great opportunity to upskill and gain valuable work experience in a professional GIS working environment."
Employer comment
"We use GIS as a tool to help optimise and improve the way we manage our infrastructure. As such, we require people who not only know how to practically use GIS applications, but who are also are willing to learn how the stormwater business operates and can apply what they know about GIS to help improve it. Sally fits these criteria fantastically – she has an excellent base knowledge and a willingness to expand her knowledge to fit the business requirements. AUT's qualification gives us assurance that she can adequately perform the skills we require for the role."


Samuel Clive, Principal - Data Analytics, Auckland Council