Outstanding alumni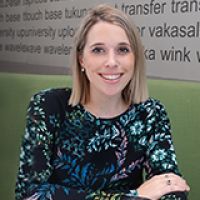 Briony Sowden
Broadcast Journalist, BBC World News, London
Bachelor of Communication Studies in Journalism
The best part of her job is learning about the world, especially when it has the power to change somebody's life, says AUT journalism alumna Briony Sowden who is now a broadcast journalist for BBC World News.
"I'm producing and reporting across BBC World News shows including the award-winning shows Impact, Global and Outside Source. I'm often blown away by the stories I'm writing about; real historic events that are shaping the political landscape.
"I'm surrounded by other journalists who are as driven by news and who inspire me to be a better journalist. Some of the people I sit next to and get to work with are the best in the business, and I'm constantly learning from them. They motivate me to strive to be better at my job and that in itself is rewarding."
The second biggest newsroom in the world
As a broadcast journalist, Briony typically works on two major stories a day and all the content related to those stories.
"I'm lucky enough to work in the second biggest newsroom in the world. My day normally begins with an editorial meeting where we pitch our ideas and how to best cover a story on the day. If a story breaks then it's my job to find people on the ground, whether it is a reporter or a local resident who is at the scene and can tell us what they're seeing.
"I get to write and voice my own packages, pitch stories, and find, interview and brief guests to help shape coverage of major international stories. I'm also putting together programmes, editing copy and outputting shows in the gallery, which is exciting and can be stressful."
She also enjoys being involved in the planning for BBC World News, researching bigger stories and exploring the best approach to cover upcoming news events.
"Sometimes that means finding specialists on certain subjects, for example an economist who can speak about trade tariffs and help us understand more complicated stories and how they affect families, industries or small businesses from New Zealand to Singapore."
A passion for foreign affairs
She has always been passionate about foreign affairs, says Briony who previously worked as a producer for Al Jazeera, based in the Middle East.
"Foreign affairs was something I was passionate when I was studying journalism at AUT, so I made sure I took elective papers on war and peace, and international relations. My end goal was to move overseas and tell what I perceived to be the real stories of the world."
It was a chance encounter that opened the door to her first job in foreign affairs, Briony says.
"I met a journalist working for Al Jazeera who happened to be the foot in the door that I needed. Within a few months I'd moved to Doha for what was meant to be a three-month freelance contract, and I ended up working there for four years."