Outstanding alumni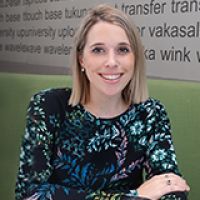 Briony Sowden
Producer/Journalist, Al Jazeera Media Network
Bachelor of Communication Studies in Journalism
The best part of her job is learning about the world, especially when it has the power to change somebody's life, says AUT journalism alumna Briony Sowden who is a producer for Al Jazeera.
"I get to work on some of the most complex stories in the world. I'm often blown away by the stories I'm writing about; real historic events that are shaping the political landscape.
"Al Jazeera gives a different perspective to stories. It gives the voice to the voiceless. We often say that Al Jazeera stays when the world leaves."
A passion for foreign affairs
Briony moved to the Middle East three years ago to take up her role at Al Jazeera.
"I always knew that I wanted to work in foreign affairs. It was something I was passionate when I was studying journalism at AUT, so I made sure I took elective papers on war and peace, and international relations. My end goal was to move overseas and tell what I perceived to be the real stories of the world."
It was a chance encounter that opened the door to her dream job, Briony says.
"I met a journalist working for Al Jazeera who happened to be the foot in the door that I needed. Within a few months I'd moved to Doha for what was meant to be a three-month freelance contract, and I've now been there for three years."
On the front line
As a producer, Briony is responsible for everything that goes to air, including scripts, packages, presenter cues and openers.
"I work closely with an editor and a designer to make sure that we produce the best television possible. We always make sure the visual elements are all perfect, as well as the facts. The buck stops with me, so if a mistake goes to air I'm responsible."
She describes her job as "exciting, challenging and rewarding", and while sometimes exhausting, it's the challenging nature of the stories she produces that she loves the most.
"Television is a powerful medium and I have to watch raw, unedited footage which has come straight from the field. The challenge is being sensitive and respectful, while making sure the story is being told."
Employer comment
"Briony is a good writer and, most importantly, keeps getting better. She reads. I can think of two occasions where she picked up on inaccuracies in wire copy. She has many natural talents of a good journalist, especially open-mindedness. She is also sceptical, has a healthy curiosity, and is a team player. I think my number one tip for anyone starting out in journalism is to count on yourself, not organisations. Build your career around your individual reputation and interests. Your contact list is your most valuable possession so start investing in it now. Use social media and blogs to build up a portfolio outside of the organisation where you pick up your paycheque. This can be tricky, depending on the restrictions of your employment, but it is manageable. Stay active on social media and online, and develop good relationships with other journalists, even if you are competing for information on the same story. This industry is a state of flux, and you never know when the competition will become a colleague."


Morgan Waters, Executive Producer – Output, Al Jazeera Media Network