Outstanding alumni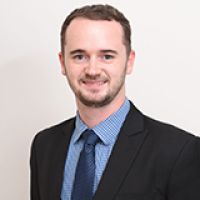 Lucian Simmons
Senior Associate, Financial Institutions & Government Sector, Corporate and Institutional Banking, Westpac Singapore
Bachelor of Business in Finance, Economics and International Business
The opportunity to intern at Westpac Institutional Bank in New York was just one of many opportunities for Bachelor of Business alumnus Lucian Simmons.
"During my internship in New York, I worked primarily with Westpac's Corporate and Institutional Banking team. My work included preparing financial models for corporate and portfolio analysis and forecasting, conducting industry and credit analysis to support relationship managers and product specialists, and other ad-hoc tasks.
"New York is such an amazing city! Even after nearly five months there I've only just scratched the surface, but it has become my favourite city in the world," says Lucian who received the internship through the AUT Internz International Scholarship Programme, which enables AUT graduates to immerse themselves in a new market and culture.
Workplace experience in Hong Kong
For Lucian, the workplace experience was another highpoint of his degree.
"I completed my final-year workplace experience at the Hong Kong Financial Services Business Continuity Management Forum, an industry-led forum for professionals in business continuity areas of financial institutions.
"During my placement, I worked on the development and execution of the first whole-industry crisis simulation exercise for financial services companies in Hong Kong, which achieved participation by 600 senior professionals from 25 major financial institutions," says Lucian who was the top graduate in the Bachelor of Business in Finance and International Business.
Advice for other students
His advice for other students is to get involved in all the opportunities AUT offers.
"Beyond just enhancing your CV and marketability to employers, these opportunities could give you the chance to study or work overseas, explore different career options, and generally learn more about yourself and your ambitions.
"The key highlight for me was the opportunity to pursue anything I was interested in and be supported in doing so. This included exploring equity research and consulting through the CFA Research Challenge and strategy consulting teams, going on a student exchange, gaining international experience in Hong Kong and New York, and learning more about academic research through my lecturers and my role as a research assistant in the finance and economics departments."
After completing his internship in New York, Lucian is now working at Westpac Singapore.