Outstanding alumni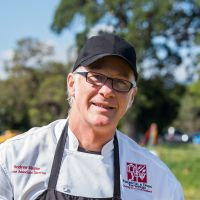 Andrew Mayne
Senior Associate Director of Culinary Arts, Stanford Hospitality, San Francisco
City and Guilds Diploma
After graduating from AUT in the 1980's with a City and Guilds Diploma, AUT hospitality alumnus Andrew Mayne now works for prestigious Stanford University in San Francisco.​
He is now the Senior Associate Director of Culinary Arts at Stanford Hospitality – a huge role where he is responsible for many millions in revenue, hundreds of staff, 10 retail outlets and the service of thousands of meals per year.
Andrew is involved in a range of initiatives at Stanford University, including the introduction of halal meats, gradually reducing meat-based proteins on the menu, reducing the carbon footprint of Stanford University and generally promoting healthier eating on campus.
"The Bay Area is a great melting pot for this kind of thinking, the incremental changes we make do make a big difference."
Sharing his expertise
Andrew's connection to AUT remains strong, and Stanford University now hosts interns from AUT via the AUT Internz programme, thanks to Andrew who championed the idea in 2015.
"Vani, a 2016 AUT Internz scholar, was great. She left being able to walk into any kitchen and knowing how it works. She was present, she listened, then she executed. She was part of the crew," says Andrew.
In 2017 two AUT culinary arts graduates will intern with Andrew in San Francisco. The recipients will have the opportunity to work alongside Andrew while experiencing life at one of the world's most prestigious universities.
Achieving leadership
On a recent visit to AUT, Andrew spoke to students on how 'leadership in the kitchen' can translate to leadership in life. His speech referenced the new AUT Edge Award and how this is a great initiative. He agrees that students need to have skills outside of their academic qualifications to be really employable.
Andrew talked about employability in terms of being "adaptable, having good emotional intelligence and being a good leader". He also believes non-verbal communication is important; thinking about what you are saying when you are not talking is a useful leadership tool.
His biggest employability tip for students is to 'walk with purpose'.

"It doesn't matter if you have nothing to do – you should look like you have a job. You also need to look past your job and understand that you are part of a big mechanism. Think about what everyone else is doing and understand the bigger picture. Your boss will appreciate it."