Outstanding alumni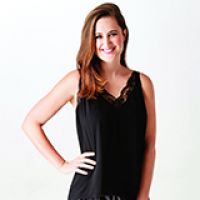 Claire Starkey
Editor in Chief, Cleo magazine, Singapore
Bachelor of Communication Studies
AUT communications alumna Claire Starkey hasn't let the fear of change stop her, having worked for five magazine genres in four countries over the last ten years. During this time, she quickly rose to editor in chief of Cleo magazine in Singapore.
Describing her job as creation, collaboration and overseeing of all editorial in the 'Cleo universe', Claire loves to watch an idea transform into content.
Her hard work and creativity hasn't gone unnoticed, and her proudest moments include Cleo New Zealand winning the award for website of the year at the MPA Awards, and Girlfriend magazine being a finalist in the 2015 AMA Awards.
Choosing AUT
Claire says she initially chose to study AUT's Bachelor of Communication Studies due to a teenage infatuation with an actor and aspiring director; adamant that she would become a director.
While her love for said actor waned over the years, she didn't re-think her vocation choice. She soon realised that film was not her strength, and her communications degree laid the foundation for a highly successful magazine career.
Among the many highlights of Claire's studies was the workplace experience in her final year at AUT, which saw her working at a newspaper company, as well as a small magazine office in Wellington.
Claire recommends choosing small publishers during placement experiences as the chances of being published are much higher. During her own work placement she even got the chance to review a restaurant, which she describes 'as the most glamorous thing that ever happened to her at that time'.
Set up for success
Throughout her time at AUT, she made great friendships and thoroughly enjoyed living on-site in the student accommodation, Claire says. She also attributes her time at AUT to her ongoing success.
"I still rely on everything AUT taught me about writing and sticking to deadlines, I'm also forever surprised at how often I think about the ethics and behavioural theories we studied. Most importantly AUT taught me how to take feedback."
Now a successful media professional herself, Claire has some great advice for other students.
"Not a single employer has ever asked me for my grades. Focus on developing your skills and work hard, but don't stress yourself out too much."