Outstanding alumni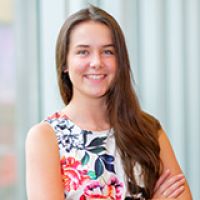 Laura Perry
Team Support Intern, New Zealand Trade and Enterprise, Vancouver, Canada
Bachelor of Business in Economics and Management
AUT's reputation for being the university for the changing world is what first attracted her, says AUT business alumna Laura Perry who now works for New Zealand Trade and Enterprise in Vancouver.
"AUT really appealed to me because of its modern edge and interactive learning environment. The content you cover is up-to-date and relevant to today's business environment, and because of the smaller class sizes, you get to personally know your lecturer and have constructive discussions with your peers. I also liked how your first year is quite broad and gives you a taste of many different areas of business before you narrow it down.
"Employers are looking for graduates with a modern, fresh perspective on the world and business. AUT provides you with an opportunity to think for yourself, question and discuss industry standards, and learn about new emerging trends in the way the world does business. In addition to this, the workplace experience as part of your degree provides you with the skills to get you into the industry of your choice."
Making a difference to Kiwi businesses
After graduating last year, Laura now helps Kiwi businesses succeed in the Canadian market.
"I really love my role with New Zealand Trade and Enterprise (NZTE). It's such a great opportunity to get a glimpse into New Zealand's international trade processes and presence on the global stage. I love being able to apply the theory I learned at AUT, and the Vancouver team is incredibly friendly and supportive.
"At the moment we're organising a corporate box event at the Canada Rugby World Sevens, which is really exciting. I'm in charge of the RSVPs, sending out tickets, ordering marketing collateral for the event, and helping with logistics. I also get to meet a few of the Sevens players, and that's not something you do every day! Another role of mine is helping to organise a presence for New Zealand companies at a food and beverage tradeshow."
This opportunity has given her an amazing foundation for her business career, says Laura who got the sought-after internship through the AUT Internz International Scholarship Programme.
Life-changing opportunities
This internship is the latest of many invaluable opportunities Laura has had throughout her studies.
"A highlight for me was participating in Shadow a Leader Day where AUT students are paired with top business leaders and follow them around for the day. I spent a day following a general manager of New Zealand Trade and Enterprise. We attended customer meetings, met with the leaders of NZTE's different departments, and met with women in leadership roles."
Laura says this experience gave her a huge confidence boost, and was a priceless networking opportunity.
"The strong reference from my business leader opened the door to completing my final-year workplace experience at NZTE's Wellington office. This experience really changed my life for the better. I got to spend nine weeks in a leading edge organisation, and I couldn't be more thankful for this experience that AUT has provided. It's truly priceless and has definitely given the strength, skills and experience I need to get a foothold in the business world."
Employer comment
"Hiring Laura was a great opportunity for us to try an intern through the AUT Internz initiative. As the New Zealand Government's international business development agency, NZTE's focus is to help New Zealand companies take their products and services to export markets. We were therefore looking for a candidate with a business background and an interest in this area. Laura showed initiative, and had experience with NZTE through the AUT Shadow a Leader Day and workplace experience with NZTE's head office in Wellington. This meant she came to us almost pre-inducted, a major benefit for this internship. "Laura has a good understanding of the fundamentals of business and what it takes for a company to be successful and grow. Through this internship she can help New Zealand companies grow their business in Canada. We're a small office looking after a geographically large market of 35 million people. Laura will help us increase our impact, while being a live example of how New Zealand companies could potentially access additional capability via the AUT Internz initiative."


Nick Fleming, Trade Commissioner and Consul General, New Zealand Trade and Enterprise, Vancouver, Canada