Outstanding alumni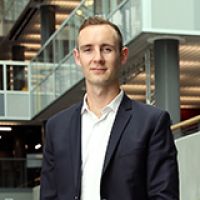 Kitaen Salt
Analyst, Wells Fargo Securities, London
Bachelor of Business (Honours) in Finance
Bachelor of Business in Accounting and Finance
Studying business opens up so many opportunities, says AUT business alumnus Kitaen Salt who now works at Wells Fargo Securities in London.
"By studying business you're not limiting yourself to one career path – all the skills you learn are applicable across multiple companies and industries. AUT's Bachelor of Business appealed to me for its broad relevance in terms of employment."
Choosing where to study was easy, says Kitaen.
"AUT is challenging the role education providers play in creating the next generation of industry leaders. AUT is more connected to business, and focuses on collaboration, and building both theoretical and tangible skillsets. Throughout my studies I had many opportunities to interact with top level industry professionals, which in turn led to internships and other great placements. That's what makes AUT the university for the changing world."
The skills to succeed
Take advantage of every opportunity AUT offers, Kitaen advises other students.
"Don't be afraid to put yourself out there! In such a competitive world, being engaged and involved in a number of different activities is just as important as succeeding academically. From the beginning of my degree, I took every opportunity I could to broaden my university experience outside of the classroom."
These opportunities included being co-president of the AUT Investment Club, sitting on the board for the American Chamber of Commerce in New Zealand, competing in the CFA Equity Research Challenge, as well as completing valuable workplace experience at PwC New Zealand.
"It's these experiences that have made my time at AUT so memorable, and taught me not only the technical skills needed to succeed in my career, but also soft skills and a broader industry awareness."
A vital international perspective
After graduating at the end of 2016, Kitaen went to New York through the AUT Internz International Scholarship Programme, which enables AUT graduates to immerse themselves in a new market and culture.
"Securing an internship within National Australia Bank's Global Institutional Banking division in New York was a life-changing opportunity, both professionally and personally. The experience was unparalleled, and helped me to gain an international perspective that is vital in today's truly global business environment.
"From subscription finance facilities to fixed income and currency commodity trading, and even internal funding mechanisms, I was able to develop a sound understanding of how the bank operates and serves its clients."