Outstanding alumni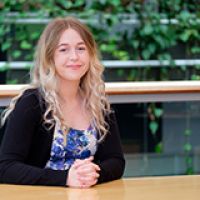 Samantha Hamilton
People Experience Partner, The Warehouse Group
Master of Business
Bachelor of Laws
Bachelor of Business in Human Resource Management and Employment Relations & Management
Do women need to choose between motherhood and a successful career? That's the interesting topic Samantha Hamilton explored through her Master of Business research.
"The aim of my research was to obtain stories from established women academics about their experiences of first-time motherhood, and how becoming a mother has impacted their academic careers. Academic careers is a widely researched topic, especially in terms of gender issues, but motherhood hasn't been as broadly discussed.
"I hope my research will provide greater insight into the issues mothers face when coming back into the workforce, so that steps can be taken to minimise these and women can feel comfortable that having children won't affect their career."
It's a topic that's close to her heart, Samantha says.
"When I decided to study I was working full-time and was pregnant with my first child. I chose AUT because the range of classes and times made it possible for me to combine student life and working full-time with motherhood. The support AUT gives its students was really helpful at this time, and my young child could go to the on-site crèche while I was studying. That made my life so much easier."
Ready to take on the world of HR
Since her early days at university, Samantha has not only successfully completed her Bachelor of Business but also simultaneously finished a Master of Business and a Bachelor of Laws.
"I chose to study a Master of Business because I wanted to expand the skills I had gained from my undergraduate degree. Law fits in well with a career in human resource management and employment relations, and I knew that a law degree would help me understand and apply the law in New Zealand. I'm hoping to use both degrees to become a successful and respected HR practitioner."
She would highly recommend postgraduate study to others, says Samantha who received the AUT Business, Economics and Law Postgraduate Academic Excellence Scholarship to support her studies.
"I would recommend the Master of Business to any student looking to really stretch their own knowledge and cement the skills they learned during their undergraduate degree."
Ahead of the game
AUT's strength is its future-focused education, Samantha says.
"The world is moving fast and AUT is not only aware of this, but is ahead of the game. A good example of this is the workplace experience that's a big component of the undergraduate business degree. I know many businesses value the fact that graduates from AUT have had that workplace experience. It's one of the reasons graduates from AUT are so respected."
The supportive environment is another highlight for her.
"I feel that the lecturers truly want their students to succeed, and do everything they can to help out when you're feeling stuck or lost. You aren't just a number, and they really make an effort to know the individual students and their different needs."