Outstanding alumni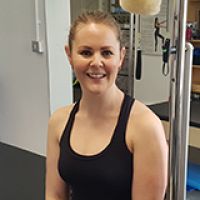 Erin Bowerman
Strength and Conditioning Coach, The Royal Ballet School (White Lodge), London
Master of Sport and Exercise
There's nothing she doesn't love about her job, says AUT sport and recreation alumna Erin Bowerman who is now a strength and conditioning coach at the prestigious Royal Ballet School in London.
"I'm primarily responsible for managing the strength, conditioning and fitness training of 130 full-time ballet students between the ages of 11 and 16. I work with students on both traditional and functional strength and conditioning for dance, alongside physiotherapists, GPs, sports doctors and artistic staff.
"I love fostering student enjoyment of strength and conditioning. It's very rewarding to provide students with tools that will not only help them nurture their bodies and make them stronger, fitter and even better performers than they already are, but also provide them with some sense of control within their training, particularly around injury management."
The foundation for success
Her Master of Sport and Exercise from AUT has given her the perfect foundation for her role at the Royal Ballet School in London, says Erin.
"On a day-to-day basis I of course use the technical and theoretical underpinnings of my degree in my work with the students. However, I often feel it's the lessons and values that were instilled in me from the AUT culture – like adaptability, versatility and the importance of never being afraid to face change – that I'm using most to help the industry I'm so passionate about move forward."
As part of her master's degree, she was also fortunate enough to link her research to a project at the Australian Ballet School on injuries in young elite ballet dancers, she says.
"Without a doubt, had I not chosen to study at AUT, I wouldn't have had the opportunity to be part of the research at the Australian Ballet School. This allowed me to follow my dream route of study, and ultimately put me on the path I am currently on."
Innovative and open-minded
She met some of the most talented people she knows at AUT, says Erin who returned to AUT for postgraduate study after having previously completed a dance degree there.
"I met some of the most talented and best people I know during my time at AUT, both academic staff and peers. The friends I made and the colleagues I had the privilege of working with and being mentored by made my time at AUT one of the best of my life.
"I had such an awesome undergraduate experience that I had no desire to look elsewhere for postgraduate study. I had the unfailing support of the academic staff who were innovative, open-minded and encouraging, and enabled me to pursue my interest of dance science within the sport and exercise postgraduate programme."
This open-minded approach is what sets AUT apart, says Erin.
"AUT offers an innovative, forward-thinking approach to education, with amazingly adaptable staff. They're willing to think outside the box and don't believe that one size fits all."