Outstanding alumni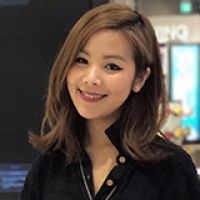 Lucie Sutichunta
Fashion & Lifestyle Writer, Vogue Thailand, Bangkok
Bachelor of Design in Fashion Design
She has always been passionate about fashion, says AUT art and design alumna Lucie Sutichunta who is now a fashion and lifestyle writer for Vogue Thailand.
"I've loved everything related to art and fashion since I was a little girl. When I moved to New Zealand as a teenager, I researched where I could study fashion design and saw an issue of Fashion Quarterly that featured work by AUT fashion students. I thought 'This is where I want to be'," says Lucie who came to AUT as an international student from Thailand.
It's a decision she hasn't regretted.
"AUT was like my second home, with amazing friends who treated each other like family. The lecturers were the nicest and most talented I've ever met. They guided me and helped me explore fashion to the deepest level without changing my identity. I loved that students could freely express their ideas and had access to great equipment for their design projects."
The road to success
Throughout her studies Lucie made valuable industry connections that helped her start her own fashion career.
"Being at AUT helped me develop essential fashion industry connections. I got to intern for Trelise Cooper and Karen Walker, which were excellent experiences to put on my CV. I was also selected to show my final-year collection at the AUT Rookie fashion show."
After graduating she soon began to establish herself as a fashion designer, founding her own label L for Lucie in 2010. Her early career highlights include being selected as an emerging designer by Showroom22, being a finalist in the iD International Emerging Design Awards and the Westpac Young Fashion Designer Awards.
In 2011, Lucie headed to Los Angeles to complete work experience with Jeremy Scott, assisting on his spring/summer collection for New York Fashion Week, and making patterns for the autumn 2012 Adidas Originals by Jeremy Scott collection. She also worked on the costumes for Katy Perry's California Dreams world tour, as well as Lil Wayne's LA concert.
Sharing her passion
Now working for Vogue Thailand, Lucie gets to write about her passion on a daily basis.
"Vogue covers anything related to high fashion at both national and international level. As a fashion and lifestyle writer, I get to share my love for fashion with our readers and can express a little bit of who I am and what I'm passionate about."
She constantly draws on the skills she developed at AUT, says Lucie.
"All the research I did at AUT and all my experience of making garments now make my articles more interesting and full of insider knowledge. I'm not just observing like other fashion journalists, but can draw on my fashion experience."