Outstanding alumni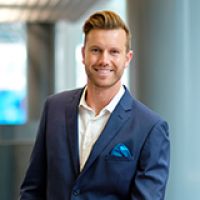 Daniel Millward
Co-founder, Savvy Students Ltd
Bachelor of Business in Entrepreneurship and Innovation & Bachelor of Sport and Recreation
Think big and dream big, says AUT business alumnus Daniel Millward who is one of the co-founders of start-up Savvy Students Ltd.
"I'm passionate about my job because I'm working for a company that has a vision to enrich students' lives. I strongly believe in giving back to the community and society at large.
"As Savvy's marketing executive and strategist, I'm responsible for devising business strategies based on market research, as well as creating, testing and implementing marketing initiatives. Every day is different, and the opportunities to grow and change are endless since it's such a young and agile company."
Creating tomorrow's successful entrepreneurs
AUT is a great springboard for budding entrepreneurs, Daniel says.
"I believe AUT is the university for the changing world because it has a culture that embraces change and innovation. In a world that is progressing rapidly this is vital. The opportunity to get workplace experience as art of your degree also puts you in a strong position to begin a great career in today's competitive environment."
As an aspiring entrepreneur, Daniel worked on creating Savvy Students Ltd during his final-year workplace experience, alongside some of his classmates.
"This was an essential learning experience for me. I could work on many different aspects of a new business, including strategy, marketing and product development. There are many benefits I gained from this experience, including becoming a permanent business partner in this new company as well as the opportunity to learn relevant skills that align with my passions."
Valuable international opportunities
Being able to spend a semester at San Diego State University in California was one of the highpoints of his time at AUT, Daniel says.
"Going on student exchange to San Diego State University was an incredible experience, and one that I will never forget. Its entrepreneurship programme is one of the best in the US, which is what attracted me to this opportunity. During my exchange, I also had the opportunity to travel, experience the culture and compete in college tennis. Perhaps the most significant highlight of this exchange was winning two business competitions for a new venture I started with classmates in San Diego."
His time at AUT was an incredibly fun growth experience, says Daniel who completed both the Bachelor of Business and the Bachelor of Sport and Recreation.
"I had the opportunity to study subjects I was passionate about, meet great people, work on exciting projects, as well as study overseas as part of my degree. The positive and student-centred culture at AUT was also a definite highlight. Throughout my studies I had so much support from the staff and felt extremely valued as a person."