Outstanding alumni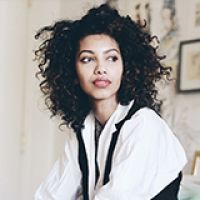 Nadeesha Godamunne
Freelance Illustrator, New York
Master of Art and Design
Bachelor of Design in Fashion Design
Its reputation as a prominent New Zealand design university with world-class technology attracted fashion design alumna Nadeesha Godamunne to AUT.
"I ended up choosing fashion – partly because of my love for it and partly because AUT has a great reputation for fashion design. Rookie, the annual graduate fashion show, and impressive array of technology really appealed to me.
"I saw AUT as a place where I could experiment, explore different avenues within design, and not feel restricted. And that's exactly what I did. My time at AUT became a hybrid of fashion, textile, graphic and illustration work. I love that there aren't those boundaries you may find at other universities."
This freedom to explore helped her find her voice and confidence as a textile illustrator, a very niche career path.
Finding success
While studying Nadeesha completed a semester of workplace experience at a textile design production company. She says this experience strongly influenced her AUT graduate collection.
"I became very interested in designing and illustrating fabric, so much so that my entire collection featured hand-drawn illustrations printed at the AUT Textile Design Lab."
This same collection, Trompe L'oeil, went on to win a gold Best Award; the Special Prize in the ID Emerging Designer Awards, which took her to Italy to present the collection at Mittelmoda Fashion Design Awards; as well as the Supreme Award at Style Pasifika.
Taking on New York
In 2012, Nadeesha made the big move to New York. She has since worked for designers like Calvin Klein, Ralph Lauren, Alice and Olivia, Prabal Gurung and Eileen Fisher. One of her career highlights so far was spending three years as an in-house fashion illustrator at Ralph Lauren; a career goal she had set herself years before.
This year, after five years establishing herself in the US, Nadeesha has stepped out into freelance work.
"There's such a variety of work, which is why I love it. I sometimes work in-house with fashion brands to illustrate design ideas for meetings and fashion buyers. I also do editorial work for print and conceptual work for campaigns/film.
"Currently, live illustration is having a moment, and companies like Bergdorf Goodman, Neiman Marcus and Saks Fifth Avenue have been utilising illustrators to draw their customers on site. That's one of my favourite types of work."