Outstanding alumni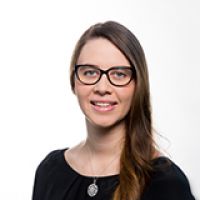 Xaviere Murray-Puhara
Product Manager for the Internet of Things (IoT), Vodafone New Zealand
Bachelor of Business in Business Information Systems and Management
Ngāti Kahungunu
Being able to get a taste of the corporate world while still at university was a highlight of her studies, says AUT business alumna Xaviere Murray-Puhara.
"The workplace experience in my final year was a great way to apply the theories I had learnt at AUT in the business world. I spent nine weeks at Air New Zealand's head office, working on projects like airpoints for business and the unaccompanied minors airband technology. Working on the airband technology was particularly exciting and involved multiple trips to the airport to train the crew on the new process and technology.
"While I was at Air New Zealand, I made new friends and attended many networking events, thereby developing my communication and networking skills as well as beginning to build my corporate network. I also found it useful that there were assignments to be done alongside working, as this allowed me to reflect on my days in the office and document my experiences."
Experiencing life at Vodafone
After graduating in 2015, Xaviere became part of Vodafone's sought-after Discover Graduate Programme.
"The Discover Graduate Programme consisted of four six-month placements in different parts of the business. It was such an amazing opportunity! It meant that I could work in different departments and teams, learning new skills each time, but also building on skills I learned from my past placements and increasing the value I can add to the business. It's a great way to help you decide what career path you'd like to follow."
Now working as Vodafone's product manager for the Internet of Things (IoT), Xaviere loves being able to add value to her organisation and make a difference in the community.
"I often put my hand up to help with events and activities in the wider community through Vodafone's Hands Up volunteering programme. I've helped out at Feed the Need to make and deliver lunches to school children, as well as helping VOYCE Whakarongo Mai by creating prototype welcome packs for children in foster care."
A solid foundation
The skills she developed at AUT provided her with a strong foundation for her role now, says Xaviere says Xaviere who was the top Māori graduate in the Bachelor of Business and the top graduate in the Bachelor of Business in Business Information Systems.
"Some of the key skills I developed at AUT were time management, organisation and communication. I gained these skills through juggling study and a part-time job, meeting assignment deadlines, as well as engaging with my peers and lecturers, and attending events hosted by AUT, like Shadow a Leader where students spend a day with a business leader."
Xaviere, who was supported by the AUT Vice-Chancellor's Significant Student Scholarship during her studies, says she had many highlights throughout her time at AUT.
"One of the highlights for me would be the tutorials, where I could apply what I learned in the lectures to different situations. I found these tutorials really furthered my learning.
"My AUT experience was also made all the more enjoyable by the friends I met in my first year of study. We made sure we were always in the same classes and tried to be in the same groups for assignments. We studied together outside of class and always supported each other, which made for a memorable three years."
The Business Information Systems major is now called Information Systems.