Outstanding alumni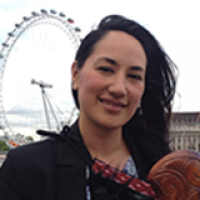 Kerrin Leoni
Founder of Mana Aroha Charity / Contract Social Worker
Master of Arts
Bachelor of Māori Development
Ngaitakoto, Ngāti Kuri, Ngāti Paoa
AUT Māori development alumna Kerrin Leoni leads by example. When she first began university, she wasn't entirely sure that she had what it takes, but she has since forged a highly successful career in social work in New Zealand and the United Kingdom.
She is now inspiring other Māori and Pacific students to broaden their horizons, and has some great advice for other students.
"Pursue your dreams and passions, and find the support to make them happen. The support is there. Te Ara Poutama, AUT's Faculty of Māori and Indigenous Development, was an amazing foundation for me and it could be for you too."
Success in social work
After finishing her Bachelor of Māori Development, specialising in social work in 2001, Kerrin spent the next five years working for Child Youth and Family.
"I had completed my AUT workplace experience there, and enjoyed tackling social work from a community-based approach, as well as an institutional angle."
In 2006, after completing her Master of Arts in Youth Development, the time had come to travel the world. New Zealand's leading role in social work meant that Kerrin easily found employment in the United Kingdom, her new home.
In the UK, Kerrin soon set up her own consulting company, Matariki Ltd, enabling her to contract as a social worker and facilitator in places like the Channel Islands, Guernsey and the Isle of Man.
Inspiring the next generation
In 2015, Kerrin founded Mana Aroha, a not-for-profit organisation focused on empowering Māori and Pacific youth. Mana Aroha selects two applicants each year to travel to London for a 10-month work experience. When they come back to New Zealand, they then visit low decile schools and talk about their experiences.
The programme focuses on leadership and international opportunities, leveraging the contacts Kerrin developed over nine years in the UK, as well as the New Zealand and Māori community in London.
"The aim is to inspire Māori and Pacific students to broaden their horizons through mentorship and global opportunities," says Kerrin who has travelled to an unbelievable 90 countries.
Since returning to New Zealand, Kerrin has contracted for the Department of Internal Affairs and Child Youth and Family, re-familiarising herself with the changes that have taken place in New Zealand over the last 10 years. She is also busy raising her twin babies born in January 2017.