Outstanding alumni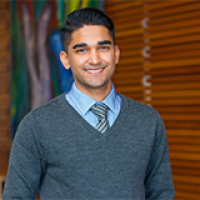 Roshen Kulwant
Analyst, Pharmac, Wellington
Bachelor of Business (Honours)
Bachelor of Business in Economics and Sustainable Enterprise
As an economist, Roshen Kulwant is already making waves in the New Zealand industry. For his honours dissertation topic, he created an Economic Vulnerability Index (EVI) for the 16 regions of New Zealand.
"An EVI is primarily used to determine which countries are most in need of international aid, but more research is needed when an EVI is used within countries. An EVI needs to be able to show how to effectively distribute aid and support through governmental policies.
"For New Zealand, my EVI shows which regions are most vulnerable to trade-related shocks like the Global Financial Crisis, and climate-related shocks like earthquakes and tsunamis."
Since graduating, Roshen has worked on a number of projects helping New Zealand grow as an economy, including the 2016 review of the Government's retirement income policies. He currently works as an analyst helping New Zealand make funding decisions on pharmaceuticals.
Exciting opportunities
Roshen, who completed his Bachelor of Business (Honours) in 2017, says the opportunities at AUT are incredible.
"Put yourself out there! There are awards and grants that get passed up if no-one decides to apply for them. Speak up in class discussions and a lecturer may remember you when a potential opportunity comes their way. Sign up for clubs and extracurricular activities which force you into situations which will grow you as a person.
"An exciting moment for me was being asked to be a keynote speaker at the 2016 AUT Excellence in Business Support Awards. I was asked to speak about how I see the future of business for my generation in front of 600 business leaders."
Making the right choice
It can be a tough decision to decide on a university, so Roshen went directly to the source.
"I sought advice from the then-current students before I made my application and all of the feedback was really positive. The students all said that AUT was a friendly and open environment where the lecturers are always willing to help with any issues you have regarding classes. I found this to be true.
"I had every opportunity I could think of and more presented to me even though I was nowhere near the top of my class. If you're willing to work hard and search out opportunities, then they'll be awarded to you. I had a great time at AUT and I truly believe that it's a great place to study."