Outstanding alumni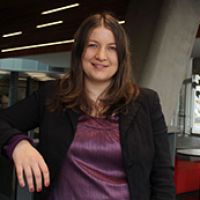 Tiffany Campbell
Graduate Auditor, Audit New Zealand
Master of Professional Accounting
The Master of Professional Accounting is a great qualification to start your accounting career with, says Tiffany Campbell.
"For people with degrees in other disciplines who want to change careers to accounting, studying the Master of Professional Accounting is faster than starting again with a bachelor's degree. It also enables you to qualify faster with the professional accounting bodies such as CA ANZ and CPA.
"I originally studied to be a Registered Nurse but then realised it wasn't the career for me for the long term. After leaving nursing, I worked in office administration and data entry roles for a couple of years before I decided to pursue accounting as a career. The Master of Professional Accounting enabled me to change careers at a postgraduate level."
Creating career-ready graduates
It's a decision she hasn't regretted, says Tiffany.
"I loved the smaller, interactive classes at AUT. I found it a more engaging and helpful learning environment than large lecture theatres, and it helped me achieve excellent grades.
"I also enjoyed the excellent career support AUT provides. There are multiple career events and tutorials and plenty of support from the Employability Lab. My involvement with student clubs like the AUT Accounting Association also helped me build connections with other AUT students and with the professional accounting associations."
She found AUT to be a very innovative university, Tiffany says.
"AUT always seems to be coming up with initiatives to improve student learning and career development through initiatives like the Employability Lab and the Internz programme. I also liked the way the classrooms are designed, with round tables to encourage interaction as opposed to classic lecture theatres."
Starting a new chapter
She had some concerns about returning to study after being in the working world for four years, Tiffany says.
"At first, I was concerned about how I would adjust back to student life and the pressure of exams and assignments. But I found the environment to be very supportive and welcoming. We also had a good orientation session for new students where they provided us with advice on how to adjust to study, and where we could get to know fellow students."
After graduating in 2018, Tiffany is now working as a graduate auditor with Audit New Zealand.