Outstanding alumni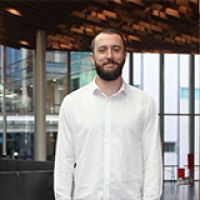 Tom Heywood
Analyst – Fixed Income and Currency, Sunsuper, Sydney
Master of Applied Finance
Despite having a successful engineering career underway, Tom Heywood sought to change direction and apply his skillset to a new discipline: finance.
"I was looking for a foundation in finance, so I could apply my background in mathematics, modelling and simulation to this field. Eventually I would love to forge a successful career in a field like quantitative analysis, risk or deal advisory.
"I chose the Master of Applied Finance because it covered the topics I was interested in, and looked to provide a solid footing for my career. The applied nature of the degree provides me with knowledge and skills I can apply immediately to a work setting."
Recommendation
Tom says he would encourage other students to take part in the programme.
"The programme has proven stimulating and enhanced my interest in finance. I've enjoyed learning in such a relaxed and progressive environment. I would definitely recommend the Master of Applied Finance."
Being able to challenge himself was one of the highlights of his studies, Tom says.
"I've enjoyed pushing the limits and pursuing objectives beyond what is expected."
Balancing study and career
Combining postgraduate study with his career had some challenges, Tom admits.
"The biggest challenge for me was studying while continuing my professional engineering career. Fortunately, the papers in the Master of Applied Finance were mainly delivered in the evenings, which has enabled me to do both.
"I'm proud of being able to maintain a perfect GPA as a full-time student while also working as a research engineer."
After completing his studies, Tom now lives in Sydney, working as an analyst for superannuation fund Sunsuper.
"In this role, my main tasks are managing the cash assets and implementing a new risk system for fixed income. My Master of Applied Finance has proven extremely helpful in performing these tasks."