Outstanding alumni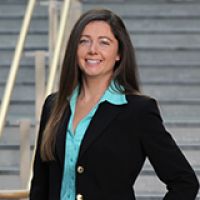 Madeline Kenkel
Assistant Professor, Benedictine College School of Business, Atchison, USA
Master of Business Administration
The Master of Business Administration provides career flexibility, says business alumna Madeline Kenkel who recently completed her AUT MBA.
"By profession, I'm an attorney and business law professor. I decided to study the MBA because it furthers both my business law and academic career opportunities.
"I chose to study at AUT because it has a reputation for diversity and teaching practical skills," says Madeline who came to AUT as an international student from the USA.
Diverse and open-minded learning
The diversity was one of her favourite aspects of studying at AUT, Madeline says.

"I had professors from Australia, China, Germany, India, Malaysia, the Netherlands, New Zealand, Scotland, South Africa and the UK. I had classmates from many of these countries and more. In addition, my peers came from diverse careers, including marketing, management, information technology, medicine and other disciplines."
She found that this diversity greatly enhances classroom discussions and activities.
"For example, while participating in simulations during my paper on negotiation, it was common for each student to have spent numerous years in a foreign country. Thus, in addition to the main subject of the negotiation, we had to be cognisant of our cultural differences. This added complexity provided insight regarding the importance of cultural awareness. It was beneficial practice for the many global business opportunities available."
Highly recommended
She would highly recommend the AUT MBA to other students, Madeline says.
"I would recommend this programme because it has provided an opportunity to network, discuss global business challenges, and form lasting friendships. AUT brings together students from around the globe to discuss ways to change the world."
She made the most of the opportunities available to AUT students, and was the student representative on the MBA and Professional Masters Board of Studies, a player on AUT's women's football team and a committee member of AUT's Business Breakfast Club, where students can network with New Zealand's top business and political leaders.
Since completing her MBA, Madeline has now returned to the USA where she is teaching business law and international business courses to bachelor's and MBA students.